Industrial Wireless LAN
For robust wireless access, PLANET IAP-2000PS Industrial Access Point with PoE injector function is specially designed for the Wi-Fi applications over a TCP/IP network in the hardened environment. The IAP-2000PS comes with 802.11n wireless interface to provide up to 300Mbps performance and with the 4-port IEEE 802.3af PoE injector interface to offer flexible power supply service. The IAP-2000PS is rated to operate at the temperature ranging from -10 to 60 degrees C and is the ideal solution to wireless transmission in any harsh industrial environment.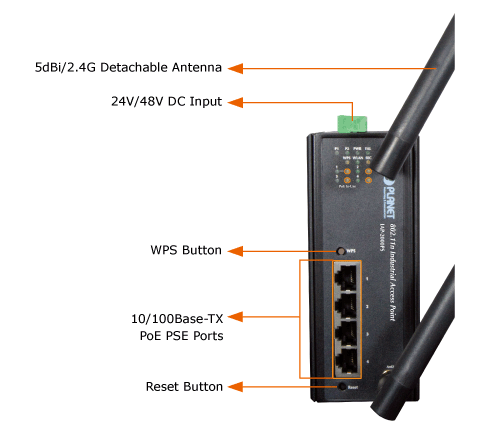 IPv6 / IPv4 Web and SNMP Management
The IAP-2000PS supports both IPv6 and IPv4 web management functions. Its SNMP feature allows the system administrator to remotely monitor and control the network devices more efficiently. With the easy and friendly management interface and plenty of management functions included, the IAP-2000PS is the best choice for system Integrators to build the large wireless service and for SMBs to connect with the IPv6 network.

Multiple Wireless Network Technologies for Greater Access
The IAP-2000PS features 802.11n radio with 2T2R antenna technology compliant with 802.11b/g standards. Compared with general wireless access points, the IAP-2000PS offers more powerful and flexible capability for LAN clients to access the network with management functions.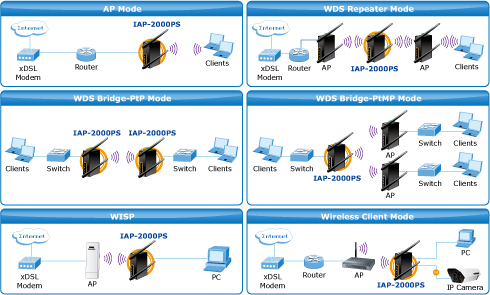 Wide Range of Wireless Security Support
To secure the wireless communication, the IAP-2000PS supports up-to-date encryption, WPA-PSK /WPA2-PSK with TKIP / AES encryption. In order to simplify the security settings, the IAP-2000PS supports Wi-Fi Protected Setup (WPS) configuration with PBC/PIN type. By just clicking the WPS option, the secure connection between the AP and wireless client will be established immediately.

IEEE 802.3af Power over Ethernet Industrial Switch
PoE feature is supported in the industrial Ethernet devices more and more often for efficient operation in harsh environments. The IAP-2000PS in-line power follows IEEE 802.3af standard and able to give power to 4 PoE compliant devices at the distance up to 100 meters through the 4-pair Cat 5 / 5e UTP wire. With data and power over Ethernet from one unit, the IAP-2000PS shall reduce cables deployment and eliminates the need for dedicated electrical outlets on the wall, ceiling or any unreachable place. A wire carries both data and power will lower the installation costs and simplifies the installation effort. Furthermore, there is only 24V DC input in some industrial environments, the IAP-2000PS supports both 24V DC and 48V DC voltages input and able to provide more wide range of industrial IEEE 802.3af PoE applications.

Easy Installation and Wide Range of Power Usage
The IAP-2000PS is packaged in a strong IP30 case that allows either DIN rail or panel mounting for efficient usage of cabinet space. It provides an integrated power supply with a wide range of voltages for worldwide operations. It also offers dual-redundant, reversible polarity 24V or 48V DC power supply inputs for high availability applications requiring dual or backup power inputs.
High Speed Wireless LAN in harden environment
Compliant with IEEE 802.11n and 802.11b/g standard, the IAP-2000PS provides stronger wireless signal, higher data rate and better performance than normal 802.11g wireless AP. Furthermore, the IAP-2000PS can act as a power supply equipment to other network devices and features the latest wireless encryption type and multiple SSID functions to prevent unauthorized access or invasion.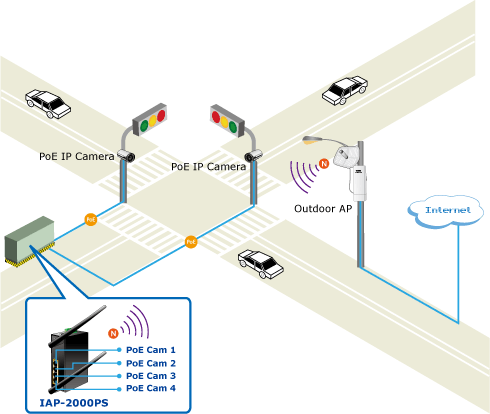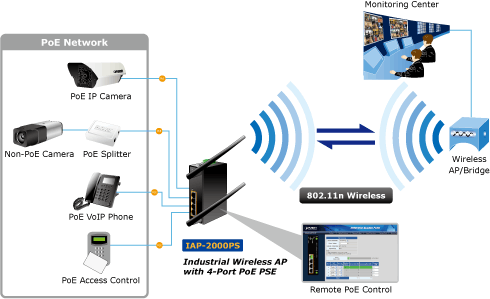 ‧ 4 10/100Base-TX Ports with PoE (Power Sourcing Equipment)
‧ Complies with IEEE 802.11n wireless LAN speed up to 300Mbps
‧ IPv4 / IPv6 Web management
‧ 2 x 5dBi detachable omni-directional antenna
‧ Supports 64/128-bit WEP, WPA / WPA2, and WPA-PSK / WPA2-PSK, 802.1x
‧ Supports WISP Mode, IEEE 802.1Q VLAN
‧ -10 to 60 degrees C operating temperature
‧ Redundant power design
‧ IP30 aluminum case protection
‧ DIN rail and wall-mount design
Ordering Information
IAP-2000PS
Industrial 802.11n Wireless Access Point (2T2R, 4 PoE Ports)