High-Speed 10/100Mbps Workgroup Switch
The brand-new PLANET FSD-1604 provides 16 RJ-45 10/100Mbps ports for high speed network connectivity. The FSD-1604 can automatically identify and determine the correct transmission speed as well as half / full duplex mode of the attached devices with its 16 ports.

Stable Fast Ethernet Switch Performance
The FSD-1604 also supports Store-and-Forward forwarding scheme to ensure low latency and high data integrity. The high performance throughput (filtering / forwarding rate: 14,880 packets per second in 10Mbps, 148,800 packets per second in 100Mbps) and 2Mbit SRAM packet buffer help the FSD-1604 to boost bandwidth, eliminate unnecessary traffic, and relieve congestion on your critical server path. With an intelligent address recognition algorithm, the FSD-1604 could recognize up to an 8K different MAC address and provide 3.2Gbps switching capacity, which makes the FSD-1604 offer wire-speed packets transfer performance without risk of packet loss.

Flexible Desktop Size Design
The FSD-1604 is the fancy-shaped standard plastic model to fit into space-limited environment. With concepts of"Easy to install and use", "Compact sized design", and "Simple troubleshooting", the FSD-1604 provides cost-conscious business and home users with the foundation from an integrated system of small-office / home-office networking.

Power Energy Saving
With one power ON/OFF button designed at rear panel of the FSD-1604, it can help users to reduce unnecessary power energy loss while the FSD-1604 operation is OFF.

Plug & Play and Easy Installation
All RJ-45 copper interfaces in the FSD-1604 support 10/100Mbps auto-negotiation for optimal speed detection through RJ-45 Category 5/5e cables. Supporting standard for auto-MDI/MDI-X can detect the type of connection to any Ethernet device without requiring special straight or crossover cables. The Flow Control function allows the FSD-1604 to support routers and servers for direct connection to this Switch with fast and reliable data transfer.

SOHO / Workgroup Switch
With 16 10/100Mbps ports, the FSD-1604 provides a cost-effective and high-performance solution for SOHO/SMB workgroup. To segment the network and ease the network traffic, the FSD-1604 is perfect for SOHO switched networks as the friendly network backbone. In addition, the network status can be monitored at a glance by the FSD-1604 providing array LED indicators.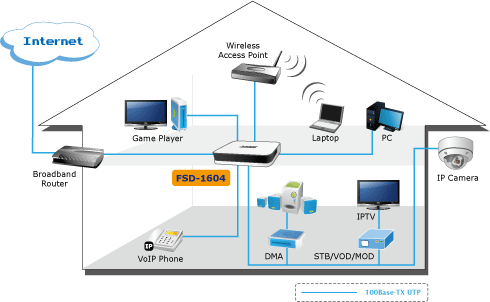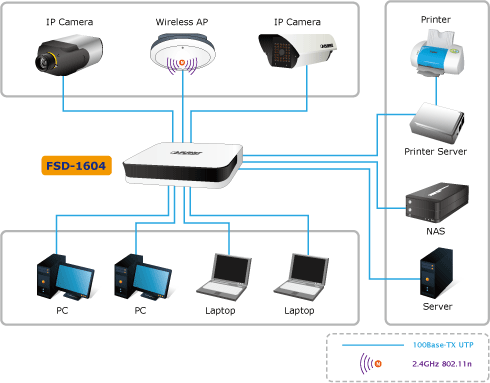 RJ-45 Interface
16 10/100Mbps Fast Ethernet ports
Complies with IEEE 802.3 10Base-T, IEEE 802.3u 100Base-TX
Switching
Hardware based 10/100Mbps auto-negotiation and auto MDI/MDI-X
Features Store-and-Forward mode with wire-speed filtering and forwarding rates
Flow control for full duplex operation and back-pressure for half duplex operation
Integrates address look-up engine, supporting 8K absolute MAC addresses
Automatic address learning and address aging
Complies with CSMA/CD protocol
Hardware
Plastic shape and desktop size, wall mount designed
LED indicators for system Power, per port Link / Act
Supports to handle up to 1522bytes packet
External DC 5V, 1A Power Adapter
One power on/off button for energy saving
FCC Class B, CE compliant
Hardware Specifications
Network Connector
16-Port RJ-45 for 10/100Base-TX
LED Display
System: Power x1 (Green)
Per Port: LNK/ACT (Green)
Switch Architecture
Store and Forward switch architecture
MAC Address Table
8K MAC address table with auto learning function
Switch Fabric
3.2Gbps
Switch Throughput
2.38Mpps
Packet Buffer
2Mbit SRAM
Maximum Packet Size
1522 Bytes
Flow Control
Back pressure for half-duplex
IEEE 802.3x pause frame for full-duplex
Power Requirements
DC 5V, 1A power adapter
Power Consumption
2.7 watts / 9.2BTU
Dimensions (W x D x H)
200x 135 x 35 mm
Weight
369g
Standard Conformance
EMI Safety
FCC Class B, CE
Operating environment
0 ~ 50 degrees C
Storage environment
-10 ~ 70 degrees C
Operating Humidity
5 ~ 95%, Relative Humidity, non-condensing
Storage Humidity
5 ~ 95%, Relative Humidity, non-condensing
Standard Compliance
IEEE 802.3 :Ethernet
IEEE 802.3u :Fast Ethernet
IEEE 802.3x :Flow Control
Ordering Information
FSD-1604
16-Port 10/100Mbps Desktop Fast Ethernet Switch