Cost-effective Edge Network Connection Solution
The FGSW-2620CS provides 24 Fast Ethernet ports and 2 Gigabit Ethernet ports and offers wire-speed packet transfer performance without risks of packet loss. It is equipped with non-blocking 8.8Gbps backplane; greatly simplifies the tasks of upgrading your LAN for catering to increasing bandwidth demands. The high data throughput makes the FGSW-2620CS ideal for most Gigabit environments, especially upgrading network to a Gigabit environment.

Advanced and Friendly Web-based Management
For efficient management, the FGSW-2620CS is equipped with remote Web interface. It can be programmed for advanced switch management functions such as port configuration, port-based / IEEE 802.1Q / MTU VLAN, port mirroring, port trunk, QoS, bandwidth control, broadcast storm control, STP, RSTP, configuration backup/recovery, MAC address / TCP & UDP filter and IGMP Snooping v1/v2.

The FGSW-2620CS provides Port-based / IEEE 802.1Q / MTU VLAN (port based / IEEE 802.1Q VLAN including overlapping). The VLAN groups allowed on the FGSW-2620CS will be maximally up to 26 for port based or up to 32 for IEEE 802.1Q VLAN groups. On the other hand, the MTU VLAN divides port 1 to port 24 as separate LAN group and only can access the public port 25 / 26 or port 26. Via supporting port trunking, the FGSW-2620CS allows the operation of a high-speed trunk to combine with multiple ports. The FGSW-2620CS also provides two groups of up to 4-Port 10/ 100Base-TX trunk support with up to 800Mbps bandwidth per trunk and 1 group of 2-Port 10/100/1000Mbps trunk support with up to 2000Mbps bandwidth per trunk, and supports fail-over as well.

Easy Long Distance Installation
The FGSW-2620CS is equipped with the MDI/MDI-X auto detection for easy plug and play connection, regardless of cabling types in straight through or crossover. In addition, with its auto-negotiation capability, all the RJ-45/UTP ports of the FGSW-2620CS can be configured to speeds of 10/20Mbps / 100/200Mbps (Fast Ethernet) and 1000/2000Mbps (Gigabit Ethernet) automatically.

The two Gigabit combo ports of the FGSW-2620CS can be either 1000Base-T for 10/100/1000Mbps or 1000Base-SX/LX through SFP (Small Form Factor Pluggable) interfaces. The distance can be extended from 100 meters (TP), 550 meters (Multi-mode fiber), up to above 10/20/30/40/50/70/120 kilometers (Single-mode fiber).
Workgroup Switch
With 24 10/100Mbps ports and up to 2 copper or Gigabit Ethernet fiber ports, the FGSW-2620CS provides a cost-effective, high-performance solution for power users.
Department Switch
The FGSW-2620CS can easily build a local, high bandwidth Fast Ethernet network for backbone of your department by performing 8.8 Gigabits per second, non-blocking switch fabric. With the two built-in SFP ports, the FGSW-2620CS provides the uplink to the backbone network through Gigabit Ethernet LX/SX SFP modules.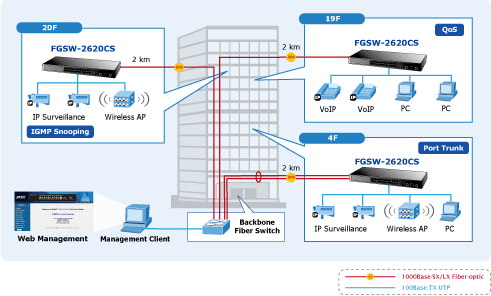 Physical Port
24 x 10/100Base-TX Fast Ethernet ports
2 x 10/100/1000Base-T TP ports
2 x 1000Base-X SFP slots, shared with Port-25 and Port-26
Layer 2 Features
Auto-MDI/MDI-X detection on each RJ-45 port
Prevents packet loss with back pressure (half-duplex) and IEEE 802.3x pause frame flow control (full-duplex)
Supports VLAN

IEEE 802.1Q tag-based VLAN
Port-based VLAN
MTU VLAN (Multi-tenant Unit VLAN)

Supports Link Aggregation

up to 2 trunk groups
up to 4 Fast Ethernet ports per trunk group
IEEE 802.3ad LACP (Link Aggregation Control Protocol)

Supports Spanning Tree Protocol

STP, IEEE 802.1d (Classic Spanning Tree Protocol)
RSTP, IEEE 802.1w (Rapid Spanning Tree Protocol)
Loopback detection

Port Mirroring to monitor the incoming or outgoing traffic on a particular port
Quality of Service
2 priority queues on all Switch ports
Traffic classification

Port-based priority
IEEE 802.1p-based priority
IP TOS / DSCP-based priority
TCP / UDP port-based QoS

Strict priority and Weighted Round Robin (WRR) CoS policies
In/Out rate limit control on each port
Broadcast Storm Control support
Multicast
Supports IGMP Snooping v1 and v2
Security
MAC address filter
TCP & UDP filter on each port
Management idle time security
Management
Remote Web interface for Switch management and setup
Supports SNMP v1
Supports DHCP Option82 and DHCP Relay
Firmware upgrade through Web interface
Configuration upload / download through Web Interface
Reset button for system reboot or reset to factory default
PLANET Smart Discovery Utility for deploy management
Hardware Specification
Hardware Version
Version 2
10/100Mbps Copper Ports
24 x 10/100Base-TX RJ-45 auto-MDI/MDI-X interfaces
1000Mbps Copper Ports
2 x 10/100/1000Base-T RJ-45 auto-MDI/MDI-X ports
SFP / mini-GBIC Slots
2 x 1000Base-SX/LX/BX SFP slots, shared with Port-25 and Port-26
Switch Processing Scheme
Store-and-Forward
Switch Fabric
8.8Gbps
Switch Throughput
6.547Mpps@64Bytes
Address Table
4K entries
Share Data Buffer
2.75Mb embedded memory for packet buffers
Flow Control
Back pressure for half duplex
IEEE 802.3x Pause Frame for full duplex
Dimensions (W x D x H)
440 x 120 x 44 mm (1U height)
LED
Power
LNK / ACT (Green)
100/1000 (Green)
Reset Button
< 5 sec: System reboot > 10 sec: Factory Default
Weight
1.61 kg
Power Requirements
100~240V AC, 50-60 Hz, 0.5A
Power Consumption / Dissipation
19.6 watts / 66.9BTU
Smart Function
System Configuration
Web interface, SNMP v1
Port Configuration
Port speed duplex mode selection
Flow control disable / enable
Port disable / enable
Port description on each port
Bandwidth Control
1 / 2 / 4 / 8 / 16 / 32 / 64Mbps
Broadcast Storm Control
5% / 10% / 25% / 50% / Disable
Port Statistics
Display detail Ethernet traffic counter information on each port
VLAN
– 32 IEEE 802.1Q VLAN groups
– 26 Port-based VLAN groups
– MTU VLAN
Spanning Tree Protocol
– STP, IEEE 802.1D (Spanning Tree Protocol)
– RSTP, IEEE 802.1w (Rapid Spanning Tree Protocol)
Link Aggregation
– 2 groups of 4-Port 10/100Base-TX trunk support, up to 800Mbps bandwidth per trunk
– 1 group of 2-Port 10/100/1000Mbps trunk support, up to 2000Mbps bandwidth per trunk
Port Mirroring
Port mirroring allows monitoring of the traffic across any port in real time
QoS
Allows to assign low / high priority on each port
First-In-First-Out, All-High-before-Low, Weight-Round-Robin QoS policy
Security
MAC Address
TCP & UDP Filter
IGMP Snooping v1 / v2
Allows to disable or enable
Standards Conformance
Regulation Compliance
FCC Part 15 Class A, CE
Standards Compliance
IEEE 802.3 (Ethernet)
IEEE 802.3u (Fast Ethernet)
IEEE 802.3ab (Gigabit Ethernet)
IEEE 802.3z (Gigabit Ethernet)
IEEE 802.3x (Full-Duplex Flow Control)
IEEE 802.1Q VLAN
IEEE 802.1p QoS
IEEE 802.1D (Spanning Tree Protocol)
IEEE 802.1w (Rapid Spanning Tree Protocol)
Environment
Temperature
Operating: 0~50 degrees C
Storage: -10~70 degrees C
Humidity
Operating: 5~90%, Storage: 5~90% (non-condensing)
Ordering Information
FGSW-2620CS
24-Port 10/100Mbps + 2-Port Gigabit TP / SFP Combo Web Smart Switch