High-Performance and Cost-Effective Gigabit Solution for Enterprise Backbone and Data Center Networking
PLANET GSW-1602SF is the Layer 2 Web Smart Gigabit Switch which can handle an extremely large amount of data in a secure topology linking to an Enterprise backbone or high capacity network server with 32Gbps switching fabric. The powerful features of QoS and network security enable the GSW-1602SF to offer effective data traffic control for ISPs and enterprises, such as VoIP, video streaming and multicast applications. The GSW-1602SF provides 16 10/100/1000Mbps Gigabit Ethernet ports with 2 shared Gigabit SFP slots. It is capable to provide the non-blocking switch fabric and wire-speed throughput as high as 32Gbps, which greatly simplifies the tasks of upgrading the LAN for catering to increasing bandwidth demands. It is ideal for the core layer of campus, enterprise networks and the aggregation layer of IP metropolitan networks.

Robust Layer 2 Features
The GSW-1602SF can be programmed for advanced switch management functions such as port mirroring, dynamic port / IEEE 802.3ad link aggregation, port-based / IEEE 802.1Q VLAN, Q-in-Q VLAN, Rapid Spanning Tree protocol, IEEE 802.1p QoS, bandwidth control , IGMP Querier / Snooping and Link Layer Discovery Protocol (LLDP) . The GSW-1602SF provides IEEE 802.1Q Tagged VLAN allowing maximally up to 256 VLAN groups. Via aggregation of supporting ports, the GSW-1602SF allows the operation of a high-speed trunk to combine with multiple ports. It enables maximum up to 8 groups of 8 ports for trunking and supports fail-over and 802.3ad LACP (Link Aggregation Control Protocol).

Excellent Traffic Control
The GSW-1602SF is loaded with powerful traffic management and QoS features to enhance services offered by telecoms. The QoS features include IEEE 802.1p 4 priority Queues / DSCP and bandwidth limiting that are particular useful for multi-tenant unit, multi business unit, Telco, or Network Service Provider applications. The GSW-1602SF empowers the enterprises to take full advantages of the limited network resources and guarantees the best performance in VoIP and Video conferencing transmission.

Efficient Management
For efficient management, the GSW-1602SF Web Smart Gigabit Switch is equipped with WEB and SNMP management interfaces. With the built-in Web-based management interface, the GSW-1602SF offers an easy-to-use, platform-independent management and configuration facility. The GSW-1602SF also supports standard Simple Network Management Protocol (SNMP) and can be managed via any standard-based management software. Furthermore, it provides configuration backup and restore function through web interface for quick deployment of multi-devices with the same configuration.

Powerful Security
The GSW-1602SF offers IEEE 802.1X Port-based access control and RADIUS Server Authentication for system authentication. Its security mechanism also comprises filter configuration and MAC address filter. The filter configuration provides per port source IP filter to block unauthorized access and static MAC address assigns destination MAC address at specified port. With the benefit of port-based / IEEE 802.1Q VLAN function, network administrators can now construct highly secured corporate networks with considerably less time and effort than before.

Flexibility and Extension Solution
The two mini-GBIC slots built in the GSW-1602SF are compatible with 1000Base-FX / 1000Base-SX/LX and WDM SFP (Small Factor Pluggable) fiber-optic modules. The distance can be extended from 550 meters (Multi-Mode fiber) up to above 10/20/30/40/50/70/120 kilometers (Single-Mode fiber or WDM fiber). They are well suited for applications of the enterprise data centers and distributions

Optimal Solution for Energy-Saving and High Gigabit Performance
In line with the energy-saving trend worldwide, PLANET GSW-1602SF adopts the new generation green technology. The GSW-1602SF is upgraded from earlier version and brings both benefits of energy saving and gigabit performance. It uses new engine to provide power saving up to 28% less energy consumption without reducing the performance, and particularly offer flexible power saving mode to fill various demands. It is specially suited for enterprise and campus networking.

The GSW-1602SF incorporates two advanced Green Networking technologies:
• Hibernation power saving modes selection

– Both link-up and link-down
– Link-up only
– Link-down only
– No power saving

• Intelligent scales power based on cable length
High Performance Backbone / Server Farm Switch
Gigabit Ethernet supported equipment has become the fundamental unit of enterprises and network servers. With up to 32 Gigabits per second of non-blocking switch fabric, the GSW-1602SF can easily provide the high bandwidth required. It can provide a local, high bandwidth and Gigabit Ethernet network for backbone of enterprises or Telecoms. With its port trunking function, a 16GB fat pipe is supported for connecting to the backbone if required. It is also ideal to act as a server farm switch connecting servers. With the two SFP ports, the GSW-1602SF provides the uplink to the edge network through Gigabit Ethernet LX/SX SFP modules.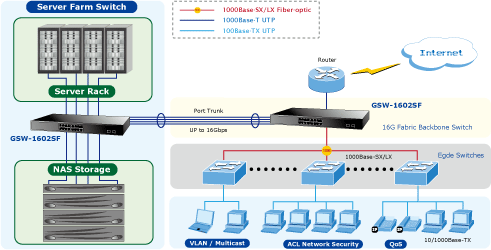 Department / Edge Security and QoS Switch
The GSW-1602SF improves the network efficiency and protects the network clients with the powerful features:
• QoS
• 802.1x Port-based and MAC-based network access authentication security
• Filter Configuration for source IP filter per port to block unauthorized access
• Static MAC address assigns destination MAC address at specified port
• Multicast IGMP Snooping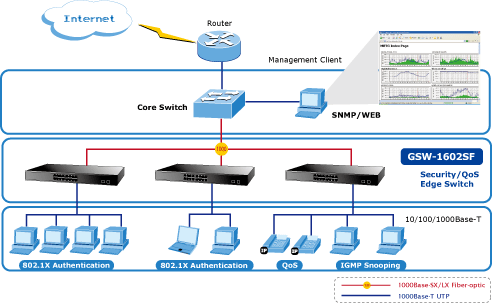 General Features
Complies with the IEEE 802.3, IEEE 802.3u, IEEE 802.3ab, IEEE 802.3z Gigabit Ethernet standard
16 10/100/1000Mbps Gigabit Ethernet ports
2-Port SFP (Small Form-factor Pluggable) for 3.3V mini GBIC module, 100Base-FX / 1000Base-SX/LX dual mode – Shared with Port-15 and Port-16
Auto-negotiation and half-duplex / full-duplex modes for all 10Base-T/100Base-TX and 1000Base-T ports
Each switching port supports auto-negotiation of 10/20Mbps, 100/200Mbps and 1000/2000Mbps
Auto-MDI/MDI-X detection on each RJ-45 port, supporting CSMA/CD protocol
Prevents packet loss with back pressure (half-duplex) and IEEE 802.3x pause frame flow control (Full-Duplex)
High performance Store and Forward architecture, broadcast storm control, runt/CRC filtering eliminates erroneous packets to optimize the network bandwidth
8K MAC address table, automatic source address learning and ageing
32Gbps switch fabric, non-blocking switch architecture
9K Jumbo Frame support at all speed (10/100/1000Mbps)
Layer 2 Features
Supports VLAN

Port-based VLAN
IEEE 802.1Q tag-based VLAN
Q-in-Q tunneling
Up to 256 VLANs groups, out of 4094 VLAN IDs

Supports Link Aggregation

up to 8 trunk groups
up to 8 ports per trunk group with 16Gbps bandwidth (Full Duplex Mode)
IEEE 802.3ad LACP (Link Aggregation Control Protocol)

Spanning Tree Protocol

RSTP, IEEE 802.1w (Rapid Spanning Tree Protocol)

Port Mirroring to monitor the incoming or outgoing traffic on a particular port
Mini-GBIC module built-in information display
Cable diagnostics technology and ICMP Ping function
Link Layer Discovery Protocol (LLDP) for discover basic information about neighboring devices on the local broadcast domain
Green Networking for energy saving
Quality of Service
4 priority queues on all Switch ports
8 mapping ID to 4 priority queues
Traffic class assignment based on IEEE 802.1p tag, or DSCP field
Multicast and Broadcast Storm Control as well as Flooding Control
Rate Limit bandwidth control at both inband and outband in steps of 128kbps
Multicast
Supports IGMP Snooping v1 and v2
Querier mode support
Multicast Address Table for 256 groups display
Security
IEEE 802.1X Port-based access control, RADIUS ServerAuthentication
Source IP filter per port to block unwanted access
Static MAC Address assign destination MAC address at specified port
Management
PLANET Smart Discovery Utility
Switch Management Interface

Web Switch Management
SNMP v1, v2c switch management

Accesses through SNMPv1, v2c and gets requests
Fireware upgrade through web interface
Configuration upload / download through Web interface
Supports SNMPv1 with RFC-1213/1573-Interface group, Ethernet MIB
SNMPv1 Trap
Hardware Specification
Hardware Version
Version 3
10/100/1000Mbps Copper Ports
16-Port auto-MDI / MDI-X
SFP / mini-GBIC Slots
2, shared with Port-15 and Port-16, 100Base-FX / 1000Base-SX/LX dual mode
Switch Architecture
Store-and-Forward
Switch Throughput@64Bytes
23.8Mpps
Switch Fabric
32Gbps / non-blocking
Share Data Buffer
340KB
Address Table
8K entries
Flow Control
Back pressure for half-duplex , IEEE 802.3x pause frame for full-duplex
Power Consumption
Max.19 watts / 64 BTU
Dimensions ( W x D x H)
440 x 120 x 44 mm, 1U height
Weight
1.57kg
Power Requirements
AC 100~240V, 50/60Hz , 1A
Temperature
Operating: 0~50 degrees C / Storage: -40~70 degrees C
Humidity
Operating: 5~90% , non-condensing / Storage: 5~90% , non-condensing
Layer 2 Function
Management Interface
Web Browser, SNMPv1, v2c
Firmware Upgrade
Web interface
Configuration backup and restore
Yes, through web interface
Port Configuration
Port disable/enable
Auto-negotiation
10/100/1000Mbps full and half duplex mode selection
Flow control disable / enable
Inband and outband bandwidth control
Port description
Frame Length setting
Port Statistics
Displays per port Ethernet traffic receive counter information
SFP module built-in information display
Yes
Port Mirroring
Monitor the incoming or outgoing traffic on a particular port
Link Aggregation
Supports 8 groups of 8-Port trunk, IEEE 802.3ad LACP
VLAN
Port-based VLAN / IEEE 802.1Q Tagged based VLAN, up to 256 VLAN groups
Rapid Spanning Tree
Yes
IGMP Snooping
IGMP Querier, IGMP (v1/v2) Snooping, up to 256 multicast Groups
QoS
4 priority queues on all switch ports, 8 mapping ID to 4 priority queues, Traffic class assignment based on IEEE 802.1p tag, or DSCP field
IEEE 802.1x Authentication
Yes
Filter Configuration
Source IP filter per port to block unauthorized access
MAC Address Filter
Static MAC address assigns destination MAC address at specified port
Diagnostics
Cable diagnostics technology and ICMP Ping function
Link Layer Discovery Protocol (LLDP)
Discover basic information of neighboring devices on the local broadcast domain
Green Networking
Energy save for per port link up / link down operation mode
Standards Conformance
Regulation Compliance
FCC Part 15 Class A, CE
Standards Compliance
IEEE 802.3: 10Base-T
IEEE 802.3u: 100Base-TX / 100Base-FX
IEEE 802.3z: 1000Base- SX/LX
IEEE 802.3ab: 1000Base-T
IEEE 802.3x: Flow Control and Back pressure
IEEE 802.3ad: Port trunk with LACP
IEEE 802.1Q: VLAN Tagging
IEEE 802.1w: Rapid spanning tree protocol
IEEE 802.1p: Class of service
IEEE 802.1x: Port Authentication Network Control
IEEE 802.1ab: LLDP
Ordering Information
GSW-1602SF
16-Port Web Smart Gigabit Ethernet Switch w/2 SFP Interfaces