GSW-2400HPS
24-Port 10/100/1000Mbps 802.3at PoE+ Web Smart Ethernet Switch
STATUS: By Order
WARRANTY: 3 years
Cost-Optimized Web Smart PoE+ Switch for Small and Medium Businesses
PLANET GSW-2400HPS is an ideal PoE Switch which providing cost-effectiveness advantage to local area network and is widely accepted in SMB office network. It offers intelligent Layer 2 data packet switching and management functions, friendly web user interface and stable operation. The model complies with IEEE 802.3at Power over Ethernet Plus(PoE+) at an affordable price. The GSW-2400HPS is equipped with 24 10/100/1000Base-Tgigabit Ethernet ports integrating with 802.3at PoE+ injector function on all ports. It offers a rack-mountable, affordable, safe and reliable power solution for SMB deploying Power over Ethernet networks, or requiring enhanced data security and network traffic management.

IEEE 802.3at/af Compliant Power Source Switch
The PoE in-line power following the IEEE 802.3at/af standard makes the GSW-2400HPS able to deliver gigabit speed data and up to 30 watts of power per port to 24 PoE compliant powered devices (PDs) with a combined power output budget of up to 300 watts. The GSW-2400HPS provides more flexibility in power requirement for all kinds of PDs with affordable installation costs.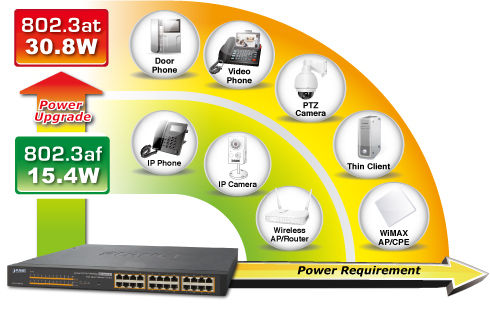 Friendly Web-based Management
For efficient management, the GSW-2400HPS is equipped with friendly Web interface for remote monitoring. It can be programmed for advanced switch management functions such as port configuration, 802.1Q VLAN, port trunk, QoS, bandwidth control, storm control and loop protection. These features provide a cost-effective way to manage the network devices through the Internet whenever you are at work or at home.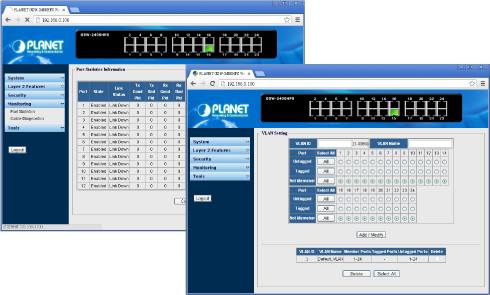 Quick and Easy PoE Network Deployment
The PoE capabilities provided also helps to reduce deployment costs for network devices as a result of freeing from restrictions of power outlets on the wall, ceiling or any unreachable place. Power and data switching are integrated into one unit, delivered over a single Ethernet cable at the distance up to 100 meters. It thus eliminates cost for additional AC wiring and reduces installation time.

Energy-Saving Design
The GSW-2400HPS uses new engine that incorporates two advanced Green Networking technologies:
Idle Mode Link Down power saving
Intelligent Scales Power based on cable length
The Idle mode Link Down power saving of the GSW-2400HPS complies with IEEE 802.3az Energy Efficient Ethernet (EEE) standard to automatically lower power for a given port when it is not linked. The Intelligent Scales Power technology actively determines the appropriate power level based on the cable length. When connecting to the GSW-2400HPS with Ethernet cable shorter than 20m, a device can obtain maximum power saving because the GSW-2400HPS would automatically detect the Ethernet cable length and reduce power usage. The connected device can substantially reduce the overall power consumption, which makes a significant contribution to energy saving.
Perfect Integrated Solution for PoE IP Surveillance
The GSW-2400HPS brings an ideal, secure surveillance system at a lower total cost. The GSW-2400HPS provides 24 10/100/1000Mbps 802.3at PoE+ ports able to feed sufficient PoE power for 24 IEEE 802.3af / IEEE 802.3at PoE IP cameras at the same time. It is also able to connect with one 16-Channel NVR or two 8-Channel NVR systems, uplink to the backbone switch and the monitor center. With such high performance switch architecture, the recorded video files from the PoE IP cameras can be saved in the NVR system via the administrators who can control and monitor the surveillance images both in the local LAN and the remote sites.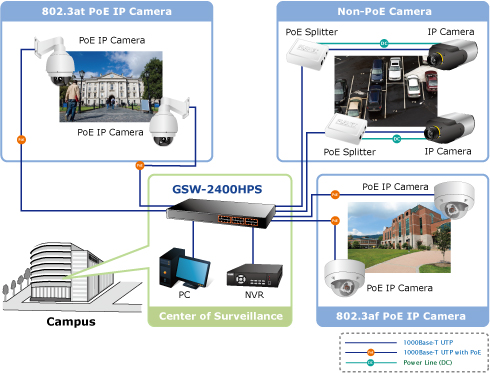 Department / Workgroup PoE Network
Providing 24port PoE in-line power interfaces, the GSW-2400HPS can easily build a power centrally-controlled IP phone system, IP camera system and wireless AP group for enterprises. Cameras can be installed around the corner in the company or campus for surveillance demands. Without the power-socket limitation, the GSW-2400HPS makes the installation of cameras easier and more efficient.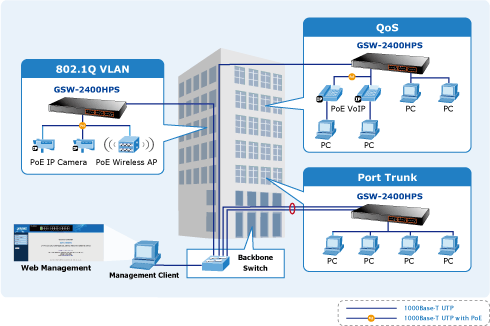 Physical Port
24-Port 10/100/1000Base-T RJ-45 copper with IEEE 802.3at / 802.3af Power over Ethernet Injector function
Reset button for system factory default
Power over Ethernet
Complies with IEEE 802.3at High Power over Ethernet PSE
Complies with IEEE 802.3af Power over Ethernet PSE
Up to 24 ports of IEEE 802.3af / 802.3at devices powered
Supports PoE Power up to 30.8 watts for each PoE port
Auto detect powered device (PD)
Circuit protection prevent power interference between each port
Remote power feeding up to 100m
Layer 2 Features
Prevents packet loss with back pressure (half-duplex) and IEEE 802.3x pause frame flow control (full-duplex)
High performance of Store-and-Forward architecture, runt/CRC filtering eliminates erroneous packets to optimize the network bandwidth
Supports VLAN

IEEE 802.1Q Tag-based VLAN
Up to 32 VLANs groups, out of 4094 VLAN IDs

Supports Static Trunk

Maximum 8 trunk groups, up to 4 ports per trunk group
Up to 8Gbps bandwidth (Duplex Mode)

Provides Port Mirror (many-to-1)
Port Mirroring to monitor the incoming or outgoing traffic on a particular port
Port Isolation
1522 / 1536 / 1552 / 9216bytes Jumbo packet setting
Loop Prevention / Detection
Ethernet Link Energy-Saving technology

Link down power saving
Intelligent scales power based on cable length
Quality of Service
Ingress / Egress Rate Limit per port bandwidth control
4 priority queues on all Switch ports
Traffic classification
Strict priority and Weight Fair Queue / Weighted Round Robin (WRR) policies
Security
Storm Control support

Broadcast / Multicast / Unknown-Unicast / Unknown-Multicast

MAC Security

MAC Forwarding Table
Static MAC

MAC Constrain
Management
IPv4 Web-based Management Interface
Firmware upgrade through Web interface
Configuration backup / restore through Web interface
Reset button for system reset to factory default
Hardware Specification
Copper Ports
24 10/ 100/1000Base-T RJ-45 auto-MDI/MDI-X Ports
PoE Injector Port
24 802.3af / 802.3at PoE Injector Ports
LED Indicators
System:
Power (Green)
PoE Ethernet Interfaces:
PoE In-Use (Orange)
1000 LNK / ACT (Green), 10/100 LNK / ACT (Orange)
Switch Processing Scheme
Store-and-Forward
MAC Addrerss Table
8K entries
Switch Fabric
48Gbps / non-blocking
Throughput @ 64Kbytes
35.7Mpps
Share Data Buffer
3.5Mbit SRAM Packet Buffer
Flow Control
IEEE 802.3x pause frame for full-duplex.
Back pressure for half-duplex
Jumbo Frame
9216 Bytes
Power Consumption
Max. 330 watts / 1122 BTU
Power Requirements
AC 100~240V, 50/60Hz, 4A max.
Dimensions (W x D x H)
445 x 207 x 45 mm (1U height)
Weight
2.76kg
Power over Ethernet
PoE Standard
IEEE 802.3af Power over Ethernet / PSE
IEEE 802.3at Power over Ethernet Plus / PSE
PoE Power Output
Per Port 52V DC, 300mA. Max. 15.4 watts (IEEE 802.3af)
Per Port 52V DC, 600mA. Max. 30 watts (IEEE 802.3at)
PoE Power Budget
300 watts
Number of PDs, 7 watts
24
Number of PDs, 15.4 watts
19
Number of PDs, 30.8 watts
9
Layer 2 Function
Management Interfaces
IPv4 Web browser
Port Configuration
Port disable / enable
Auto-negotiation 10/100/1000Mbps full and half duplex mode selection
Flow Control disable / enable

Display each port's state, speed duplex mode, flow control status

Port Statistics
Display each port's state, link status, packet transmit / receive counter
VLAN
802.1Q Tagged based VLAN
Up to 32 VLAN groups, out of 4094 VLAN IDs
QoS

4 priority queues on all switch ports
Traffic classification based, Strict priority and Weight Fair Queue / Weighted Round Robin (WRR) policies

– Port-based priority

Trunk
Static Trunk
Features 8 groups of 4-port trunk support
Port Mirroring
Port mirroring allows monitoring of the traffic across any port in real time
Port Isolation
Yes
Bandwidth Control
Ingress / Egress Rate Limit per port
Storm Control
Broadcast / Multicast / Unknown-Unicast / Unknown-Multicast
Jumbo Frame
1522 / 1536 / 1552 / 9216bytes Jumbo packet setting
Loop Protection
Loop Prevention / Detection
Green Networking
Enable / Disable
Security
MAC Security
– MAC Forwarding Table
– Static MAC
MAC Constrain
Cable Diagnostics
Support
Configuration Management
Configuration backup / restore through Web interface
Firmware Upgrade
Web interface
Standards Conformance
Regulation Compliance
FCC Part 15 Class A, CE
Standards Compliance
IEEE 802.3 10Base-T
IEEE 802.3u 100Base-TX
IEEE 802.3ab 1000Base-T
IEEE 802.3x Flow Control
IEEE 802.1p QoS
IEEE 802.1Q VLAN Tagging
IEEE 802.3af Power over Ethernet
IEEE 802.3at High Power over Ethernet
Environment
Operating

| | |
| --- | --- |
| Temperature: | 0 ~ 50 degrees C |
| Relative Humidity: | 5 ~ 95 % (non-condensing) |

Storage

| | |
| --- | --- |
| Temperature: | -10 ~ 70 degrees C |
| Relative Humidity: | 5 ~ 95 % (non-condensing) |
| | | |
| --- | --- | --- |
| Photo | Model | Description |
| | ICA-2200 | Full HD PoE Box IP Camera |
| | ICA-2500 | 5 Mega-pixel PoE Box IP Camera |
| | ICA-3250V | Full HD Outdoor IR PoE IP Camera |
| | ICA-4200V | Full HD 20M IR Vari-focal Dome IP Camera |
| | ICA-5350V | 3 Mega-pixel Vandalproof IR IP Camera |
| | ICA-8350 | 3 Mega-pixel Vandalproof Fish-Eye IP Camera |
| | ICA-HM127 | 3 Mega-pixel H.264 Box IP Camera |
| | ICA-HM132 | H.264 2 Mega-pixel 20M IR Vari-focal Dome IP Camera |
| | ICA-HM136 | H.264 2 Mega-pixel 20M IR Vandalproof Dome IP Camera |
| | ICA-HM312 | 2 Mega-pixel 25M IR Outdoor Bullet PoE IP Camera |
| | ICA-HM316 | 2 Mega-pixel Outdoor IR PoE IP Camera |
| | ICA-HM351 | 2 Mega-pixel 35M IR Outdoor Box PoE IP Camera |
| | ICA-HM620 | 2 Mega-pixel PoE Plus Speed Dome Internet Camera |
| | ICF-1700 | Touch Screen Internet Multimedia Phone |
| | IPOE-162S | Industrial IEEE 802.3at Gigabit High Power over Ethernet Splitter |
| | POE-152S | IEEE 802.3af Power over Ethernet Splitter |
| | POE-E101 | IEEE 802.3af Power over Ethernet Extender |
| | POE-E201 | IEEE 802.3at Power over Gigabit Ethernet Extender |
| | WNAP-1120PE | 802.11n Wireless Access Point with PoE |
| | WNAP-C3220 | 300Mbps 802.11n Wireless Ceiling Mount Range Extender |
Ordering Information
GSW-2400HPS
24-Port 10/100/1000Mbps 802.3at PoE+ Web Smart Ethernet Switch