Centralized Power Distribution for Ethernet Networking
The FGSD-910P, a new member in PLANET 802.3af PoE Fast Ethernet Switch family, is an 8-Port 10/100Mbps 802.3af Power over Ethernet + 1-Gigabit Port Switch with a total of 120 watts of PoE budget, which is an ideal solution to fulfilling the demand of sufficient PoE power for network applications with Fast Ethernet speed transmission. The eight 802.3af PoE ports provide PoE power injector function which is able to drive 8 IEEE 802.3af compliant powered devices. The FGSD-910P also provides a simple, cost-effective and non-blocking wire-speed performance. It comes with a 12-inch metal compact housing, suitable for desktop deployment in SOHO office or department network application.

Ideal Solution for Securing IP Surveillance Infrastructure
Particularly designed for the growing popular IP Surveillance applications, the FGSD-910P 802.3af PoE Switch is positioned as a Surveillance Switch for quick and easy PoE IP camera deployment with power feeding. The FGSD-910P provides 802.3af PoE functions along with 8 10/100Base-TX ports featuring 15.4-watt 802.3af PoE in RJ-45 copper interfaces and 1 extra Gigabit TP interface supporting high speed transmission of surveillance images and videos.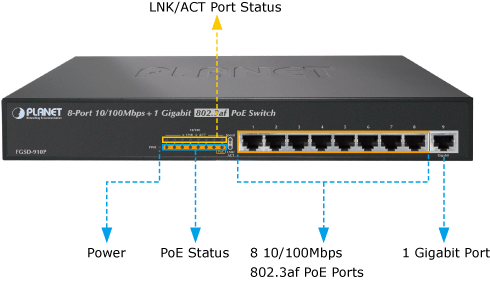 Perfectly Integrated Solution for PoE IP Camera and NVR System
Different from the general IT industrial PoE Switch which usually comes with 12 or 24 PoE ports, the FGSD-910P provides eight 802.3af PoE ports for catering to small scale of IP Surveillance networks at a lower total cost. The FGSD-910P comes with high performance switch architecture and 120-watt PoE power budget. The recorded video files from 8 PoE IP Cameras can be powered by the FGSD-910P and saved in the 8-channel NVR system or surveillance software to perform comprehensive security monitoring. For instance, one FGSD-910P can be combined with one 8-Channel NVR and 8 PoE IP cameras as a kit for the administrators to centrally and efficiently manage the surveillance system in the local LAN and the remote site via Internet.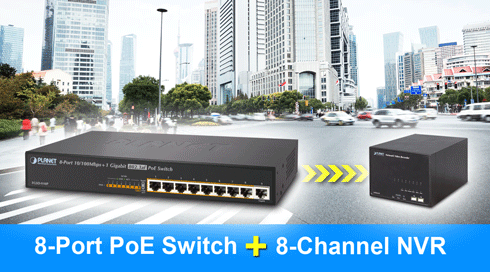 Stable and High Performance Switch Architecture
The FGSD-910P has a 4K MAC address table, featuring high performance switch architecture capable of providing the non-blocking 3.6Gbps switch fabric and wire-speed throughput as high as 2.67Mpps, which greatly simplifies the tasks of upgrading the LAN for catering to increasing bandwidth demands. Besides, the 802.3x Full-Duplex flow control function of the FGSD-910P enables PD devices and servers to be directly connected to the switch for wire-speed packet transfer performance without the risk of packet loss.
The FGSD-910P RJ-45 copper interfaces support 10/100Mbps Auto-Negotiation at port 1 to port 8 and 10/100/1000Mbps Auto-Negotiation at port 9 for optimal speed detection through RJ-45 Category 6, 5 or 5e cables. It also supports standard Auto-MDI/MDI-X that can detect the type of connection to any Ethernet device without requiring special straight or crossover cables.

Easy Cable Connection
With data and power over Ethernet from one unit, the FGSD-910P reduces cabling requirements and eliminates the need for dedicated electrical outlets on the wall, ceiling or any unreachable place. A wire that carries both data and power can lower the installation costs, simplify the installation effort and eliminate the need for electricians or extension cords. Providing 8 PoE interfaces, the FGSD-910P is ideal for small businesses and workgroups requiring deploying the PoE for the wireless access points, IP-based surveillance camera or IP phones in any places easily, efficiently and cost-effectively.
802.3af PoE IP Surveillance in Public Transportation
Providing up to eight 802.3af PoE, in-line power interfaces and 1 Gigabit TP interface, the FGSD-910P can easily build a power centrally controlled IP Camera system for the enterprises. It can work with 8-Channel NVR and surveillance software to perform comprehensive security monitoring. For instance, one FGSD-910P can be combined with one 8-Channel NVR; that is, each of its PoE port can be inked to a specific 802.3af PoE IP camera for the administrators to centrally and efficiently manage the surveillance system in one site. The 1 Gigabit TP interface in the FGSD-910P also provides Gigabit TP connection for uplink to public server groups.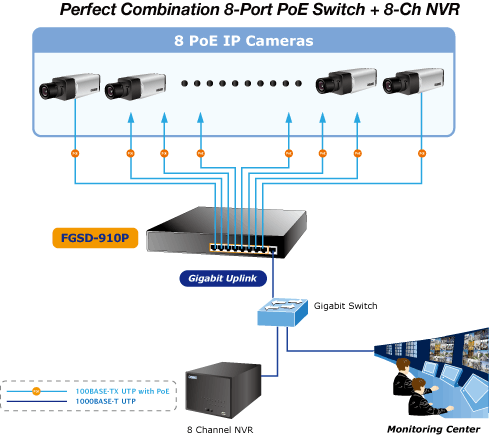 IP Office Department / Workgroup PoE Switch
With the business office expansion, the additional telephones required could be installed in less cost via the implementation of PoE IP Telephony system than that of the traditional circuit wiring telephony system. The FGSD-910P PoE Ethernet Switch helps enterprises to create an integrated data, voice, and powered network. The IEEE 802.3af compliant IP Phones can be installed without the need of an additional power cable because the power can be provided via the standard Ethernet cable from the connected FGSD-910P.

The Wireless AP group, PoE IP Phones and Analog Telephony Adapter work perfectly with the FGSD-910P which injects power through the Ethernet cables. With the FGSD-910P, IP Telephony deployment becomes more reliable and cost effective, which helps enterprises save tremendous cost when upgrading from the traditional telephony system to IP Telephony communications infrastructure.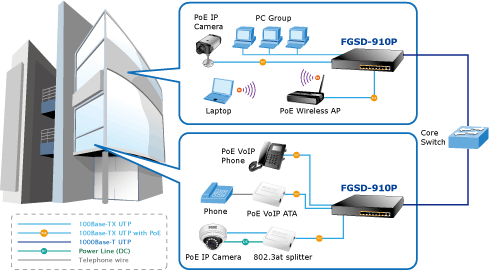 RJ-45 Interface
8-Port 10/100Mbps Fast Ethernet Switch
8-Port supports 56V DC power to PoE powered device
1-Port 10/100/1000Mbps Gigabit Ethernet Switch
Power over Ethernet
Complies with IEEE 802.3af Power over Ethernet End-Span PSE
Up to 8 IEEE 802.3af devices powered
Supports PoE Power up to 15.4 watts for each PoE port
120-watt PoE budget
Auto detects powered device (PD)
Circuit protection prevents power interference between ports
Remote power feeding up to 100m
Switching
Hardware based 10/100Mbps auto-negotiation and auto MDI/MDI-X (Port 1 to Port 8)
Hardware based 10/100/1000Mbps auto-negotiation and Auto MDI/MDI-X (Port 9)
Flow control for full duplex operation and back pressure for half duplex operation
Integrates address look-up engine, supporting 4K absolute MAC addresses
Automatic address learning and address aging
Hardware
12-inch desktop size, 1U height
LED indicators for system power, per port PoE ready and PoE activity, speed, Link / Act
1 silent fan to provide stable and efficient power performance
Hardware Specification
Network Connector
8-Port RJ-45 for 10/100Base-TX (Port 1 to Port 8)
1-Port RJ-45 for 10/100/1000Base-T (Port 9)
PoE Inject Port
8-Port with 802.3af PoE injector function
LED Display
System: Power (Green)
Per PoE port:
PoE (Orange)
LNK/ACT (Green)
Gigabit port:
Speed (Green)
LNK/ACT (Green)
Switch Architecture
Store and Forward switch architecture
MAC Address Table
4K MAC address table with Auto learning function
Switch Fabric
3.6Gbps
Switch Throughput
2.67Mpps@64Bytes
Flow Control
Back pressure for Half-Duplex. IEEE 802.3x pause frame for full-duplex
Power Requirements
AC 100~240V, 50/60Hz, 2A max.
Power Consumption
130 watts / 443BTU
Dimensions (W x D x H)
280 x 180 x 43 mm, 1U height
Weight
1.7kg
Power over Ethernet
PoE Standard
IEEE 802.3af Power over Ethernet / PSE
PoE Power Supply Type
End-Span
PoE Power Output
Per Port 48V DC, 350mA. max. 15.4 watts
Power Pin Assignment
1/2(+), 3/6(-)
PoE Power Budget
120 watts (at room temperature)
Max. number of Class 1 PD
8
Max. number of Class 2 PD
8
Max. number of Class 3 PD
8
Standard Conformance
EMI Safety
FCC Class A, CE
Standard Compliance

IEEE 802.3
IEEE 802.3u
IEEE 802.3ab
IEEE 802.3x
IEEE 802.3af
Ethernet
Fast Ethernet
Gigabit Ethernet
Flow Control
Power over Ethernet

Environment
Operating Environment
0 ~ 50 degrees C
Storage Environment
-10 ~ 70 degrees C
Operating Humidity
5 ~ 95%, Relative Humidity, non-condensing
Storage Humidity
5 ~ 95%, Relative Humidity, non-condensing
| | | |
| --- | --- | --- |
| Photo | Model | Description |
| | ICA-2200 | Full HD PoE Box IP Camera |
| | ICA-2500 | 5 Mega-pixel PoE Box IP Camera |
| | ICA-3250V | Full HD Outdoor IR PoE IP Camera |
| | ICA-4200V | Full HD 20M IR Vari-focal Dome IP Camera |
| | ICA-5350V | 3 Mega-pixel Vandalproof IR IP Camera |
| | ICA-8350 | 3 Mega-pixel Vandalproof Fish-Eye IP Camera |
| | ICA-HM127 | 3 Mega-pixel H.264 Box IP Camera |
| | ICA-HM132 | H.264 2 Mega-pixel 20M IR Vari-focal Dome IP Camera |
| | ICA-HM136 | H.264 2 Mega-pixel 20M IR Vandalproof Dome IP Camera |
| | ICA-HM312 | 2 Mega-pixel 25M IR Outdoor Bullet PoE IP Camera |
| | ICA-HM316 | 2 Mega-pixel Outdoor IR PoE IP Camera |
| | ICA-HM351 | 2 Mega-pixel 35M IR Outdoor Box PoE IP Camera |
| | ICA-HM620 | 2 Mega-pixel PoE Plus Speed Dome Internet Camera |
| | ICF-1700 | Touch Screen Internet Multimedia Phone |
| | POE-152S | IEEE 802.3af Power over Ethernet Splitter |
| | POE-E101 | IEEE 802.3af Power over Ethernet Extender |
| | WNAP-1120PE | 802.11n Wireless Access Point with PoE |
| | WNAP-C3220 | 300Mbps 802.11n Wireless Ceiling Mount Range Extender |
Ordering Information
FGSD-910P
8-Port 10/100Mbps 802.3af PoE + 1-Port 10/100/1000Mbps Desktop Switch