For cost saving purpose and providing advanced management functions, PLANET has released the new version of the FNSW-1608PS, the layer 2 web smart switch with PoE injector function built in. The FNSW-1608PS features 16 10/100Mbps Fast Ethernet ports with 8 IEEE 802.3af PoE interfaces. It supports MDI / MDI-X convertible on 16 10/100Mbps ports and provides PoE inject function on Port 1 to Port 8 which is able to drive 8 IEEE 802.3af compliant powered devices. The PoE power feeding can be set disable / enable and the PoE power consumption can be monitored for effective power usage.

With its auto-negotiation capability, all the RJ-45 / STP ports of the FNSW-1608PS can be configured to speeds of 10/20Mbps / 100/200Mbps (Fast Ethernet) automatically. In addition, the FNSW-1608PS is equipped with the MDI/MDI-X auto detection for easy plug and play connection, regardless of cabling types in straight through or crossover. The FNSW-1608PS also provides a simple, cost-effective, and highly reliable network connection for data and power transmission. Furthermore, it is the ideal device for bridging among Ethernet, Fast Ethernet workgroups and networks. It fits all kinds of Ethernet installations such as campus, workgroup, department, enterprise, telecom or industrial applications.

The FNSW-1608PS features non-blocking 3.2Gbps backplane that greatly simplifies the tasks of upgrading your LAN for catering to increasing bandwidth demands. For efficient management, the FNSW-1608PS switch is equipped with remote Web interface and can be programmed for advanced switch management functions such as SNMP Alert Trap, port configuration, port-based / IEEE 802.1Q / MTU VLAN, port mirroring, port trunk, QoS, bandwidth control, broadcast storm control, MAC address / TCP & UDP filter and IGMP Snooping.
Department / Workgroup PoE Switch:
With 16 10/100Mbps ports, the FNSW-1608PS provides a cost-effective and high-performance solution for power users. With its 3.2 Gigabits per second, non-blocking switch fabric, this device can easily provide a local, high bandwidth Fast Ethernet network for your departmental backbone. Providing up to 8 PoE, in-line power interface, the FNSW-1608PS can easily build a power centrally-controlled IP phone system, IP camera system and AP group for the enterprise. For instance, 8 cameras / APs can be easily installed around the corner in the company for surveillance demands or to build a wireless roaming environment in the office. Without the power-socket limitation, the FNSW-1608PS makes the installation of cameras or WLAN AP easier and more efficient.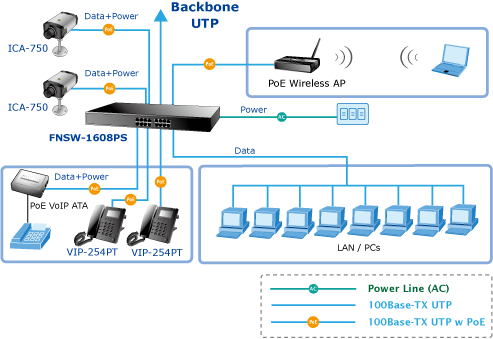 • Complies with the IEEE 802.3, IEEE 802.3u Fast Ethernet standard
• 16-Port 10/100Mbps with 8-Port PoE Web Smart PoE Switch
• 8-Port support 48VDC power to PoE Powered Device (Port 1 to port 8)
• Each Switching port supports auto-negotiation-10/20, 100/200Mbps (Fast Ethernet) supported
• Auto-MDI / MDI-X detection on each RJ-45 port
• Prevents packet loss with back pressure (Half-duplex) and IEEE 802.3x PAUSE
 frame flow control (Full-duplex)
• High performance Store and Forward architecture, broadcast storm control,
 runt / CRC filtering eliminates erroneous packets to optimize the network bandwidth
• 4K MAC address table, automatic source address learning and ageing
• 2.75Mb embedded memory for packet buffers
• Remote Web interface for Switch management and setup
• SNMP Trap for alarm notification of events
• Broadcast Storm Control support
• Supports up to 16 port-based VLAN groups / 32 IEEE 802.1Q VLAN groups / MTU VLAN
• Supports up to 2 Trunk groups, each trunk for up to maximum 4 ports with
 800Mbps bandwidth
• Supports QoS, bandwidth control and MAC address filter / TCP & UDP filter on
 each port
• Supports port mirroring function and IGMP Snooping v1 / v2
• PoE power Disable/Enable and PoE power consumption monitoring by management
 interface
• Firmware upgrade through Web interface
• Password setting, IP setting and device description setting through Planet
 Smart discovery utility
• 19-inch rack mount size
• Internal full-range power supply suitable for worldwide use
• EMI standards complies with FCC, CE class A
Hardware Specifications
Fast Ethernet Ports
16 10/ 100Base-TX RJ-45 Auto-MDI / MDI-X ports
Power over Ethernet ports
8-Port with PoE injector function (Port 1 to port 8)
Switch Processing Scheme
Store-and-Forward
Throughput (packet per second)
2.38Mpps
Switch fabric
3.2Gbps
Address Table
4K entries
Share data Buffer
2.75Mb embedded memory for packet buffers
Flow Control
Back pressure for half duplex, IEEE 802.3x Pause Frame for full duplex
Dimensions (W x D x H)
440 x 120 x 44 mm (1U height)
Weight
1.75 kg
Power Requirements
100-240V AC, 50-60 Hz, 1A
System Operating Power Consumption / Dissipation (Full load)
123 watts / 419.43BTU
Temperature
Operating: 0~50 degrees C

Storage: -40~70 degrees C

Humidity
Operating: 5~90% (non-condensing)

Storage: 5~90% (non-condensing)

Power over Ethernet
PoE Standard
IEEE 802.3af Power over Ethernet / PSE
PoE Power Supply Type
End-Span
PoE Power Output
Per Port 48V DC, 350mA. Max. 15.4 watts
Power Pin Assignment
1/2(+), 3/6(-)
Power Budget
110 watts
Smart functions
System Configuration
Web interface
Alert Trap
SNMP Trap for alarm notification of events
Port configuration
Port speed duplex mode selection. Flow control disable / enable. Port disable / enable. Port description on each port
Bandwidth Control
Yes, 1Mbps / 2Mbps / 4Mbps / 8Mbps / 16Mbps / 32Mbps / 64Mbps
Broadcast Storm Control
Yes, 5% / 10% / 25% / 50% / Disable
Port Statistics
Display each port's detail Ethernet traffic counter information
VLAN
16 port-based VLAN groups / 32 IEEE 802.1Q VLAN groups / MTU VLAN
Port trunking
Supports 2 groups of 4-Port trunk support, up to 800Mbps bandwidth per trunk
Port Mirroring
Port mirroring allows monitoring of the traffic across any port in real time
QoS
Allows to assign low / high priority on each port

First-In-First-Out, All-High-before-Low, Weight-Round-Robin QoS policy

MAC address / TCP & UDP filter
Yes
IGMP Snooping v1 / v2
Allows to disable or enable
PoE power control
Allows to disable or enable power provision and assign priority on each PoE port
Standards Conformance
Regulation Compliance
FCC Part 15 Class A, CE
Standards Compliance
IEEE 802.3:Ethernet

IEEE 802.3u:Fst Ethernet

IEEE 802.3x:Full-duplex Flow control

IEEE 802.3af:Power over Ethernet

IEEE 802.1Q:VLAN

IEEE 802.1p:QoS

The above specifications are for the FNSW-1608PS hardware version 2 only.
Ordering Information
FNSW-1608PS
16-Port 10/100Mbps with 8-Port PoE Web Smart PoE Switch