POE-2400G
24-Port Gigabit IEEE 802.3af Power over Ethernet Injector Hub

Quick and Easy Gigabit PoE Network Deployment
PLANET POE-2400G is a 24-port Gigabit IEEE 802.3af PoE Web Management Injector Hub and complies with IEEE 802.3, IEEE 802.3u, IEEE 802.3ab and IEEE 802.3af standards. With 24 10/100/1000Base-T Gigabit Ethernet ports, the POE-2400G supports full 48V DC power for any remote IEEE 802.3af powered device (PD) such as wireless LAN access point, IP phone, and IP camera. Supporting full PoE power budget of 380 watts, the POE-2400G provides sufficient 15.4-watt PoE power to 24 remote PD devices.

Easy Cabling Installation
The POE-2400G is installed between a regular Ethernet wwitch and the powered devices; it injects power to the PDs without affecting the data transmission performance. It offers a cost effective and quick solution to upgrading network system to IEEE 802.3af Power over Ethernet system without replacing the existing Ethernet switch. There are 48 RJ-45 STP ports on the front panel of PoE Injector Hub, of which the 24 ports on the lower stack function as "Data input" and the other 24 ports on the upper stack function as "PoE (Data and Power) output". The 24 "PoE output" ports are also the power injectors which transmit DC Voltage to the CAT 3/4/5/5e/6 cable and transfer data and power simultaneously between the Injectors and Splitters.

Friendly / Simple Web Management Interface
To efficiently manage the powered devices, the POE-2400G provides Web management interface in which administrators can control the functions including port Enable / Disable, port priority, system configuration, and Username / Password changing and smart features for powered devices. The PoE injector Hub can automatically detect the power status of each port and show messages on its Web management interface. These features also provide users a cost-effective way to manage the device via Internet whenever they are at work or at home.
Gigabit PoE Network Deployment
The POE-2400G provides the easiest way to power your Ethernet devices such as IP camera on the ceiling and the wireless access point installed on the top of the building. With 24 10/100/1000Base-TX Gigabit Ethernet ports, the POE-2400G supports full 48V DC power for any remote IEEE 802.3af powered device (PD).

To control the power system of your networking devices, the POE-2400G can directly co-work with PoE IP phone to build VoIP telephony network in the office. Furthermore, the POE-2400G can be directly connected to any third party IEEE 802.3af compliant devices installed 100 meters away.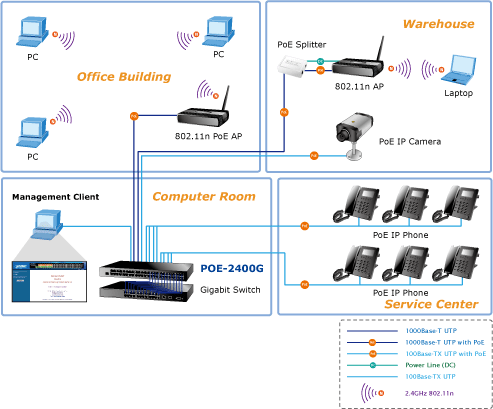 Interface
• 48-Port 10/100/1000Base-T Gigabit RJ-45 STP
 - 24-Port "Data input"
 - 24-Port "PoE (Data + Power) output"
• 1 10/100Base-TX management port with auto MDI / MDI-X feature

PoE
• Complies with IEEE 802.3af Power over Ethernet Mid-Span PSE
• Up to 24 IEEE 802.3af devices powered
• Supports PoE power up to 15.4 Watts for each PoE ports
• Automatically detects powered device (PD)
• Circuit protection prevents power interference between ports
• Remote power feeding up to 100m

PoE Management
• Total PoE power budget control
• Per port PoE function Enable/Disable
• PoE port power feeding priority
• Per PoE port power limit
• PD classification detection
• PoE Power Schedule
• Over Temperature Protection

Management
• Web interface for remote management
• Supports Network Time Protocol
• Firmware upgrade through Web interface
• PLANET Smart Discovery utility automatically finds PLANET devices on the network
• SNMP Trap for alarm notification of events

Hardware
• 19-inch rack mountable; 1U height
• Reset button for default setting and system reboot
• LED indicators for PoE ready, PoE activity, FAN Alert and Power Alert

Standard Compliance
• IEEE 802.3 10Base-T
• IEEE 802.3u 100Base-TX
• IEEE 802.3ab 1000Base-T
• IEEE 802.3af Power over Ethernet
• FCC Part 15 Class A, CE
Hardware Specifications
Interface
"Data" Input Ports: 24x RJ-45 STP
"PoE (Data+Power)" Output Ports: 24x RJ-45 STP
Management Port: 1 x RJ-45; 10/100Base-TX, auto-negotiation, auto-MDI / MDIX
Data Rate
10/100/1000Mbps
LED
System: Power x 1 (Green)
    FAN Alert x 1(Green)
Management Port x 2: 10/100 (Orange / Green)
Per PoE Port: PoE in Use x 1 (Green)
Network Cable
10Base-T: 2-Pair UTP Cat. 3, 4, 5, up to 100m (328ft)
100Base-TX: 2-Pair UTP Cat. 3, 4, 5, up to 100m (328ft)
1000Base-T: 2-pair UTP Cat. 5e, 6 up to 100m (328ft)
EIA/TIA- 568 100-ohm STP (100m)
Dimensions (W x D x H)
440 x 200 x 44 mm (1U height)
Weight
3.3kg
Power Requirements
100-240V AC, 50/60 Hz
Power Consumption
400 watts max.
Cooling
Fan x 2
Power over Ethernet
PoE Standard
IEEE 802.3af Power over Ethernet / Mid-Span PSE
PoE Power supply Type
Mid-Span
PoE Power Output
Per Port DC 48V 15.4 Watts
Power Pin Assignment
4/5(+), 7/8(-)
PoE Power Budget
380 Watts
Management
Management Interface
Web, PLANET Smart Discovery Utility
PoE Management
Power Limit by Priority and Total Limit
Per port power Enable / Disable
Power feeding priority
Current usage and status
Total power consumption
Per port power Schedule
Management Feature
System / Management functions setup
Web firmware upgrade
SNMP Trap for alarm notification of events
Standards Conformance
Standards Compliance
IEEE 802.3 10Base-T Ethernet
IEEE 802.3u 100Base-TX Fast Ethernet
IEEE 802.3ab 1000Base-T Gigabit Ethernet
IEEE 802.3af Power over Ethernet
Regulation Compliance
FCC Part 15 Class A, CE
Environmental Specifications
Operating
Temperature: 0 ~ 50 degrees C
Relative Humidity: 5 ~ 95% (non-condensing)
Storage
Temperature: -40 ~ 70 degrees C
Relative Humidity: 5 ~ 95% (non-condensing)
Ordering Information
POE-2400G
24-Port Gigabit IEEE 802.3af Power over Ethernet Injector Hub