POE-400
4-Port IEEE 802.3af Power over Ethernet Injector Hub

PLANET POE-400 is a 4-port IEEE 802.3af Power over Ethernet injector hub which complies with IEEE 802.3, IEEE 802.3u and IEEE 802.3af standards. Equipped with 4 10/100Base-TX Fast Ethernet ports, the POE-400 supports full 48V DC power for any remote IEEE 802.3af powered device (PD) like wireless LAN access points, IP phones, and LAN cameras. Supporting power supply of 70 watts, the POE-400 provides sufficient power to the 4 remote devices.

There are 8 RJ-45 STP ports on the POE-400. Half of the ports on the right panel function as "Data" and the other half on the left panel function as "Data and Power". Each of the "Data and Power" port is an injector which inserts DC voltage into the CAT 5 cable to allow the cable between the Injector and Splitter to transfer data and power simultaneously.
Installation of IEEE 802.3af Injector Hub and Equipment
For the places hard to find the power inlet, the POE-400 provides the easiest way to power your Ethernet devices, such as PLANET IEEE 802.3af Power over Ethernet Splitter (POE-152S) with Internet Camera (ICA-2500) or Wireless Access Point (WNAP-C3220) installed in the small office. To control the power system of your networking devices, the POE-400 can directly co-work with PLANET PoE IP Camera and POE IP Phone PoE IP Phone to build VoIP telephony network in the office. Besides, the POE-400 can be directly deployed to connect the third party IEEE 802.3af devices like Cisco AP and POE switches installed 100 meters away.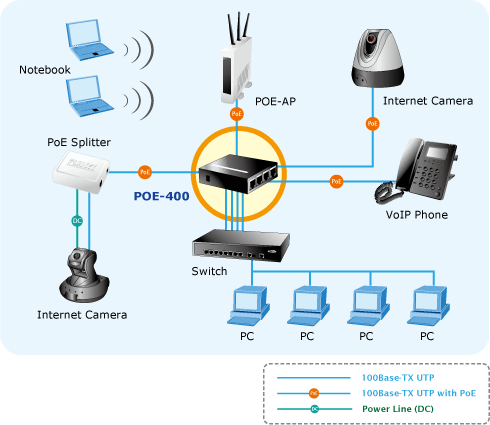 • Complies with IEEE 802.3, IEEE 802.3u, 10/100Base-TX
• Complies with IEEE 802.3af, 48V DC power over unused twisted-pair wires
• 4-Port IEEE 802.3af in-line mid-span power injector box
• Full power support for per POE port
• Protection of circuit prevents power interference from ports
• Indication of LED indicator power input
• Palm size for Desktop
• 100~240V AC, 50/60Hz, universal power supply
• FCC, CE class B compliant
Ethernet Connector
8-Port RJ-45 STP with 4-Port "Data" and 4-Port "Data and Power"
Ethernet Data Rate
10/100Mbps (vary on Ethernet device attached)
Input Voltage
DC 48V, 1.5A
Number of Devices can be Powered
4
Ethernet Cable
TIA/EIA-568, Category 5/5e/6 cable
LED Indicator
1 x power, 4 x POE ready / in-use
Operating Temperature
0~50 degrees C, 5~90% RH
Storage Temperature
-20~70 degrees C, 5~90% RH
Dimension (W x D x H)
70 x 97 x 26 mm
Weight
220g
Emission
FCC Class B, CE mark
Standard Compliance
IEEE 802.3 Ethernet
IEEE 802.3u Fast Ethernet
IEEE 802.3af Power over Ethernet
Ordering Information
POE-400
4-Port IEEE 802.3af Power over Ethernet Injector Hub