IPOE-162S
Industrial IEEE 802.3at Gigabit High Power over Ethernet Splitter
The Best Industrial Grade Data Link and Power Sourcing for Non-PoE Solution
Planet IPOE-162S is an Industrial High Power PoE Splitter that can split the 48~56V DC over the existing Ethernet cable into the selectable 12V or 24V DC power output. It supports passive 10/100/1000Mbps Ethernet connection ability and complies with IEEE 802.3at High Power over Ethernet standard that supports up to 25-watt output power to powered device. To fulfill the growing industrial applications, the IPOE-162S is designed to work under the operating temperature range from -40 to 75 degrees C (-40 to 167 degrees F). The IPOE-162S is an ideal solution to transferring power to traditional network device with high power demand directly without the need to install additional power outlets and electrical cabling in the industrial environment.

Innovative, Selectable DC Power Output Voltage
Via the innovative 12 volt / 24 volt DIP switch on the front panel, the IPOE-162S can supply either 24V DC power to industrial equipment or 12V DC output to the common network devices, such as wireless access point or IP camera. It highly increases the flexibility of the product applications.

Dual Power Output Capability
By supporting up to 25-watt 802.3at Power over Ethernet cable, the IPOE-162S can satisfy not only single power-hungry equipment but also able to share the 25-watt output power to two non-PoE Ethernet devices simultaneously through a 4-pin terminal block. For example, the two power output can be applied as shown below to completely solve the need of electric source:
  ■ IP camera (Power 1) + Outdoor housing with fan and heater (Power 2)
  ■ IP camera (Power 1) + Pan & Tilt motor (Power 2)
  ■ Analog camera (Power 1) + IP video server (Power 2)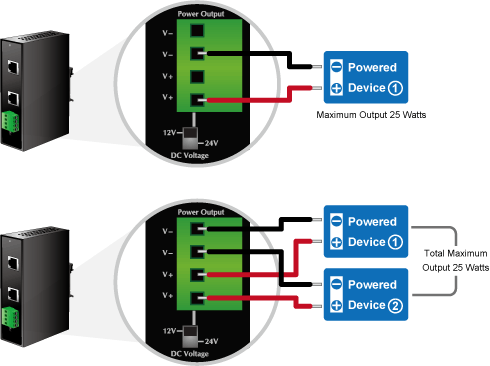 Environmentally Hardened Design
With compact, slim type IP30 industrial case protection, the space saving Industrial High Power PoE Splitter IPOE-162S can be placed in almost any difficult environment. It allows either DIN rail or wall mounting for efficient use of cabinet space. Being able to operate under the temperature range from -40 to 75 degrees C, the IPOE-162S is the ideal product for co-working with Industrial High Power Injector which can feed the power to non-PoE devices up to 100 meters (328 feet) away in those harsh environments.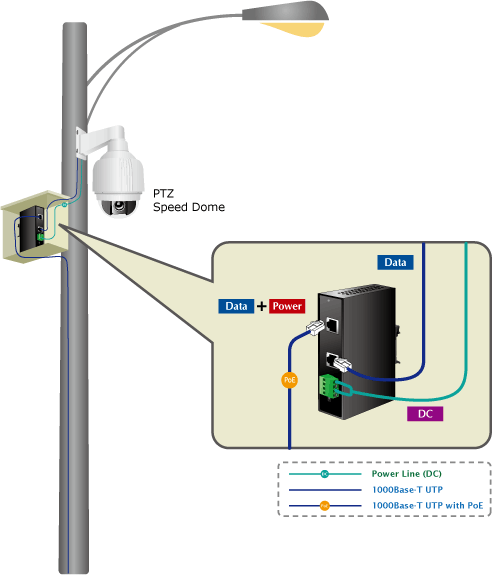 Plug and Play, Easy Cabling Installation
With IEEE 802.3at Gigabit High Power over Ethernet devices installed, the system administrator only has to use one single RJ-45 Ethernet cable to carry both power and data to each device. Besides, connecting through the Industrial High Power PoE Injector with the IPOE-162S, you can also have benefits including cost saving, easy networking planning and high network reliability.
IEEE 802.3at Injector and Splitter Installation
Due to the capability of IEEE 802.3at standard, the IPOE-162S can co-work with the IEEE 802.3at Gigabit PoE injector devices (like PLANET POE-161), High Power Switch or High Power Media Converter and transform non-PoE equipment into IEEE 802.3at PoE application. For a place where is hard to find the power inlet, the High Power PoE devices and the IPOE-162S operate as a pair to provide the easiest way to power your Ethernet devices that need high power input, such as PTZ (Pan, Tilt & Zoom) network cameras, PTZ speed dome camera, color touch-screen voice over IP (VoIP) telephones, and multi-channel wireless LAN access points.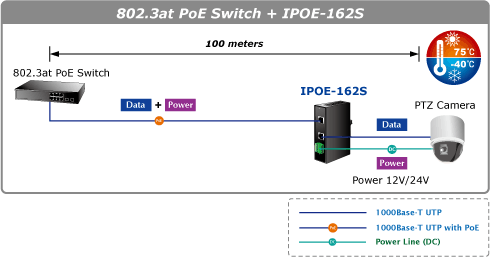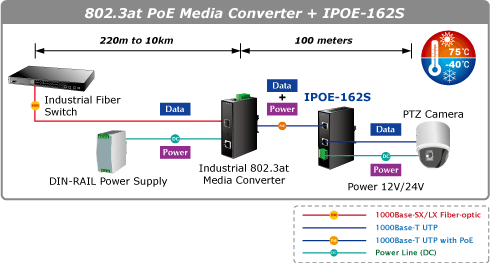 Interface
• 2-port RJ-45 interfaces
 – 1-port PoE Power+ Data input
 – 1-port Data output
 – 2 DC out (4-pin Terminal Block)

Power over Ethernet Splitter
• Complies with IEEE 802.3at High Power over Ethernet, PD
• Splits the 48~56V DC power over RJ-45 Ethernet cable into DC 12V / 24V output
• Auto-detects of IEEE 802.3at PoE equipment, protecting devices from being damaged by incorrect
 installation
• Two different adjustable output voltage options (12V / 2A, 24V / 1A) to fit various devices
• Distance up to 100 meters

Industrial Case / Installation
• IP30 metal case protection
• DIN rail and wall mount design
• Supports EFT 6000V DC protection for power line
• Supports 6000V DC Ethernet ESD protection
• -40 to 75 degrees C operating temperature

Standard Compliance
• IEEE 802.3 10Base-T
• IEEE 802.3u 100Base-TX
• IEEE 802.3ab 1000Base-T
• IEEE 802.3at High Power over Ethernet standard
• FCC Part 15 Class A, CE
Hardware Specifications

Interface
"PoE (Power + Data)" Input Port : 1 x RJ-45 10/100/1000Base-T
"Data" Out Port: 1 x RJ-45 10/100/1000Base-T
DC Out Plug Connector: 1 removable 4-Pin terminal block
LED Indicator
System: Power Ready x 1 (Green)
Network Cable
10/100/1000Base-T: 4-Pair UTP Cat. 5, 5e, 6
Distance up to 100m (328ft)
EIA/TIA- 568 100-ohm STP (100m)
Data Rate
10/100/1000Mbps
(vary on Ethernet device attached)
DIP Switch
12V DC / 24V DC output voltage
Power Input
802.3at PoE 48~56V DC
Power Output
12V / 24V DC, max 2A (adjustable)
Dimensions (W x D x H)
135 x 87.8 x 32 mm
Weight
421g
Enclosure
IP30 metal case
Installation
DIN rail kit and wall mount ear
ESD / EFT Protection
6KV DC

Power over Ethernet

PoE Standard
IEEE 802.3at High Power over Ethernet
Number of devices that can be powered
1 or 2
(Vary on device's power requirement; DC1 + DC2 cannot be over 25 watts.)

Standards Conformance

Standards Compliance
IEEE 802.3 10Base-T Ethernet
IEEE 802.3u 100Base-TX Fast Ethernet
IEEE 802.3ab 1000Base-T Gigabit Ethernet
IEEE 802.3at High Power over Ethernet
Regulation Compliance
FCC Part 15 Class A, CE
Stability Testing
IEC60068-2-32(Free Fall)
IEC60068-2-27(Shock)
IEC60068-2-6(Vibration)

Environment

Operating Temperature
-40 ~ 75 degrees C
Storage Temperature
-40 ~ 85 degrees C
Humidity
5 ~ 95% (non-condensing)
Ordering Information
IPOE-162S
Industrial IEEE 802.3at Gigabit High Power over Ethernet Splitter