Extending PoE Connecting Range Easily and Eliminating Dead Spots
Powerline communication (PLC) and Power over Ethernet (PoE) are both advanced technology to simplify cabling and quickly building an Ethernet network. PLANET PL-502P is a powerline adapter acting as a PoE injector in compact housing. Based on Homeplug AV and IEEE 802.3af PoE standards, the PL-502P supports data transfer at up to 200Mbps over the existing household power circuit and provides a 10/100Mbps Ethernet port with up to 15 watts of inline power over UTP cable respectively, allows users to extend a local area network by simply plugging the PLC adapter with built-in PoE into a wall power outlet. It is ideal for powering PoE powered devices and transmitting Ethernet data in home or small office environments where only a power outlet but no network connection is available.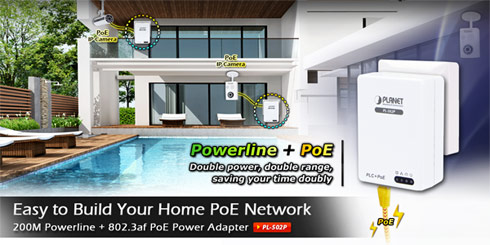 A New Level of Surveillance and Wireless Networking for Smart Homes
Featuring high-speed backbone connection through electrical power lines and carrying both data and PoE power over its RJ45 port simultaneously, the PL-502P helps users to utilize just power outlets and one Ethernet cable to easily deploy a network of IP surveillance, wireless internet access or voice over IP system in less than a minute. The PL-502P turns every power outlet into a PoE network connection, taking home surveillance or wireless networking to the next level.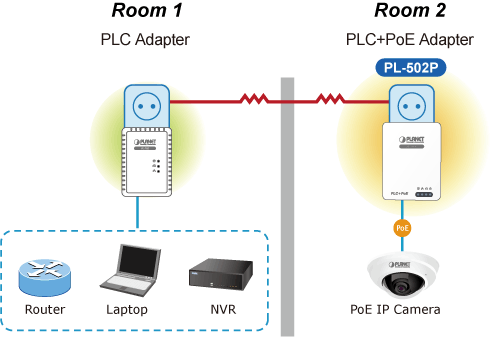 Quick and Easy Cabling for PoE Network Deployment
Complying with IEEE 802.3af PoE standard, the PL-502P allows users to flexibly deploy standard and low powered devices to transfer data and power simultaneously through one Ethernet cable for up to 100 meters. The PL-502P frees the deployment of any 802.3af PoE compliant PD equipment from restrictions of power outlet locations and the additional AC wiring. It thus reduces cables and eliminates the need for extra electrical wires in the wall, ceiling or any unreachable place, and most of all, it reduces installation time and total cost.
Highly Compatible and Secure Home Network
The PL-502P is compliant with IEEE 1901 and HomplugAV standards, allowing to be paired up with any PLANET PL-series powerline products or other suppliers' Homeplug AV equipment, creating a safe and secure home network environment that delivers quick and convenient access up to 300 meters over existing electrical wiring.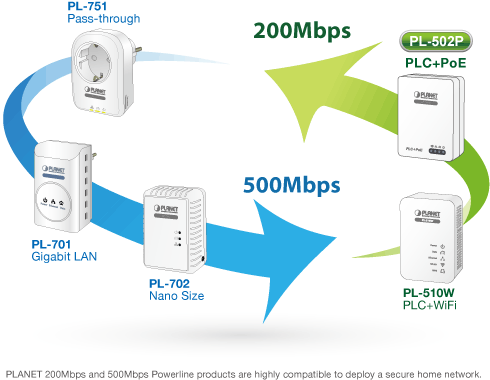 Plug and Play Installation
The PL-502P and PLANET powerline adapters all have a configuration push button for a convenient way of creating a secure HomePlug network without the need to use software. Simply by pushing the button on the PL-502P, users can easily set up a hassle-free secure powerline network within minutes. It also provides 128-bit AES encryption for network security and data protection.

All-in-One and Compact Size Design
With concepts of "easy to install", "plug and play" and "simple troubleshooting" for general users, the PL-502P is an all-in-one designed Powerline plus PoE port with internal power supply in a compact-sized housing. Installation is as easy as plugging into a wall power socket and connecting the Ethernet cable; the PL-502P is ready to provide high-speed network communication and PoE injector functions simultaneously.
The PL-502P allows you to connect instantly to Access Points, IP Cameras or VoIP phones that support PoE standard by using the same LAN UTP cable for both network data and power. In general, the regular powerline adapter is connected to the home xDSL router to share the connectivity to wireless or VoIP network. The PL-502P thus brings users much more convenience that it can connect to any PoE PD equipment in and around the house to easily construct the home network.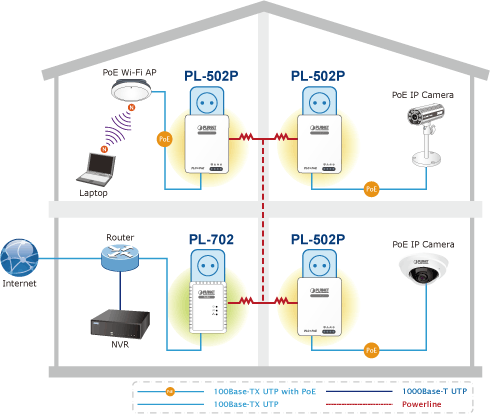 Ideal Solution for SOHO Securing IP Surveillance Infrastructure
For SOHO/Home surveillance network, the regular powerline adapter is connected to your NVR (network video recorder) or monitor station, and the PL-502P, connected to your PoE IP camera, can be placed in a remote area. Users can install multiple PL-502P adapters in and around the house to quickly and safely build a security system.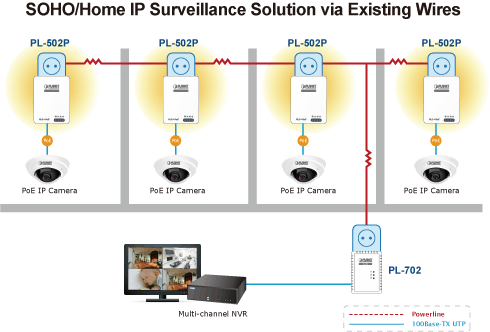 IEEE Compliant HomePlug AV and LAN
Designed for home surveillance and wireless applications
Data rate of up to 200Mbps and 300 meters over existing electrical wiring
IEEE 1901 and HomePlug AV standard compliant
Equipped with 10/100Mbps RJ45 ports for LAN/ WAN and auto MDI/ MDI-X
Power over Ethernet
Complies with IEEE 802.3af standard, mid-span PSE
Provides 48V DC power over RJ45 Ethernet cable to devices with Ethernet port
Supports PoE power up to 15 watts for PoE port
Auto detects IEEE 802.3af PoE equipment protecting the devices from being damaged via incorrect installation
Remote power feeding up to 100m
IEEE 802.3af splitter device compatibility
Secure Network Connection
Converts any power socket into a wired connection point; Plug-and-Play installation in minutes; no need to configure software
Simple push-button setup with sophisticated data encryption; 128-bit AES encryption for network protection enhancement
Easy Installation and Management
Creates a network connection throughout your home without the mess of cables
Easy-to-use utility for powerline network management
Up to 16 Powerline Network Adapters can communicate on a single network
Green technology helps conserve energy when no data link is detected
Integrated enhanced Quality of Service (QoS) features
Hardware Specifications

Network Interface
■ One 10/100BASE-TX RJ45 port with 802.3af PoE injector function
■ One AC power plug with 200Mbps powerline port supporting co-existence with HomePlug 1.0
Button
One pair sync / reset button
Power Socket
EU power connector; Type C, CEE 7/16 Europlug
LED
■ Power: On / Off / Flashing
■ Powerline link: Red / Orange / Green / Flashing Green / Off
■ Ethernet link: Green / Blinking / Off
■ PoE In-Use: Green / Off
Dimensions (W x D x H)
73 x 34 x 99 mm
Weight
140g
Material
Plastic
Power Connector
Embedded EU specifications
Power Requirements
100~240V AC, 50/60Hz internal
Power Consumption
Full loading with PoE: Max. 16 watts / 54.59 BTU
Standby mode: 0.7 watts / 2.39BTU
Environment
Indoor use

Powerline Specifications

Powerline Standards
IEEE 1901 / HomePlug AV
Data Rate
Up to 200Mbps over Powerline and 10/100Mbps over Ethernet UTP cable
Operation Range
Estimated range of 300 meters (984ft.) in wall powerlines
Frequency Band
2 ~ 28 MHz
Modulation Schemes
OFDM symbol modulation on line synchronization
1024/256/64/16/8 – QAM, QPSK, BPSK, ROBO carrier modulation
Access Methods
CSMA/CA channel-access schemes
Security
128-bit AES link encryption with key management
Nodes
Up to 16 per powerline network
Software Utility
Device detect / diagnostic
Supports Windows XP, Vista, Window 7 and Windows 8

Power over Ethernet Specifications

PoE Standard
IEEE 802.3af Power over Ethernet
PoE Power Output
48V DC, max. 15.4 watts, 300mA
Power Pin Assignment
1/2(+) , 3/6(-)
PoE Power Budget
15 watts
Distance
Up to 100 meters over Cat 5/5e UTP cable

Standards Conformance

Regulation Compliance
CE mark
Standards Compliance
IEEE 1901 HomPlug AV
IEEE 802.3af Power over Ethernet
IEEE 802.3 10BASE-T
IEEE 802.3u 100BASE-TX
IEEE 802.3x flow control

Environment Specifications

Operating
Temperature: 0 ~ 40 degrees C
Relative Humidity: 10 ~ 90% (non-condensing)
Storage
Temperature: -20 ~ 70 degrees C
Relative Humidity: 10 ~ 95% (non-condensing)
Ordering Information
PL-502P-EU
200M PLC + 802.3af PoE Power Adapter (EU Type directly-attached)