High-resolution Day and Night Surveillance
PLANET ICA-4200 Network Camera is a high-resolution camera for the round-the-clock surveillance over IP networks. It supports H.264, MPEG-4 and JPEG compression formats and delivers excellent picture quality in Full HD resolutions at 30 frames per second (fps). Incorporating the new CMOS image sensor, which is specially designed for surveillance applications, the ICA-4200 provides high quality images under all lighting conditions. It is perfect for remote and discreet monitoring of indoor areas such as stores, banks, hotels, office lobbies, and warehouses.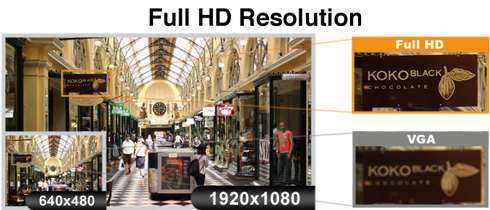 Exceptional Image Quality
Together with powerful image processing attributes like Wide Dynamic Range and 2D Digital Noise Reduction (2DNR) technology, the ICA-4200 is able to filter the intense backlight surrounding a subject and remove noises from video signal. It brings an extremely clear and exquisite picture quality even under any challenging lighting conditions.


Advanced Event Management
To enhance surveillance flexibility and event management capabilities, the ICA-4200 supports a number of advanced features including auto-exposure to avoid over exposure, and inputs to connect with external devices such as door sensors to trigger the event servers. Users can save consecutive videos in local storage and events on memory card and thus you never have to miss an important moment.

Flexible Installation and Power Functionality
The ICA-4200, incorporating IEEE 802.3af Power over Ethernet standard, is able to be powered via the network cable from a PoE power sourcing equipment such as PoE switch and PoE injector. It thus eliminates the need for extra power cables and reduces installation costs while increases the deployment flexibility. In addition, the ICA-4200 is ONVIF compliant and therefore it is interoperable with other manufacturers' products. It also includes 64-ch central management software for ease of maintenance and remote monitoring. The ICA-4200 is indisputably the top choice for reliable and high performance surveillance.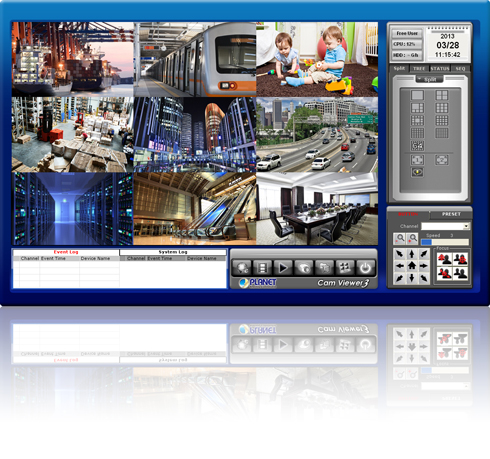 PLANET ICA-4200 can perform in various surveillance applications. With high-resolution design, it can capture clear images and is perfect for identifying objects and persons. Moreover, the ICA-4200 supports 802.3af PoE interface, and facilitates the indoor surveillance applications without worrying the electric source.
Its Save-to-NAS and Save-to-SD card makes you easy to save your data. Besides, NVR and Web UI management make you easy to do the configuration and live viewing. Moreover, viewing your baby on your smart phone would give you a peace of mind.
With so many features offered, the ICA-4200 no doubt is your best choice for indoor surveillance solution.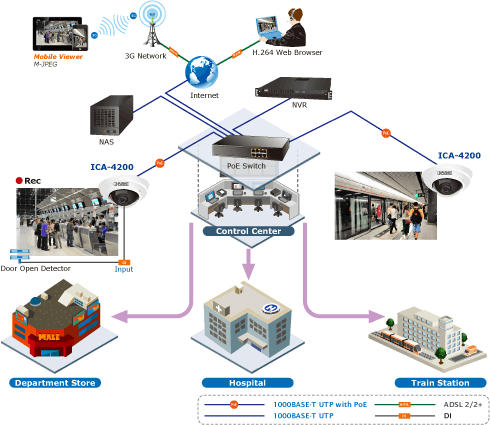 Camera
1/2.5″ 2 mega-pixel progressive scan CMOS sensor
3.6 mm fixed lens
0.5 lux minimum illumination at F1.8
Maximum resolution 1920 x 1080
Video / Audio
Simultaneous H.264, MPEG-4 and M-JPEG video compressions
Simultaneous multi-stream support
Max. resolution 1080p at 30fps
2DNR to improve picture quality at low lux
WDR Enhancement for enhancing visibility under extremely bright or dark environments
Network and Configuration
Compliant with IEEE 802.3af PoE interface for flexible deployment
Auto MDI/MDI-X supported
Supports both IPv6 and IPv4
RTSP / UPnP / HTTP / HTTPS protocols selectable
Easy Installation & Management
ONVIF compliant for interoperability
Built-in Samba client for NAS
Micro SD card for local video recording supported
Digital Input for integration with sensors and events
PLANET Smart Discovery Lite, Cam Viewer 3 central management software supported
Camera

Image device
1/2.5″ 2 mega-pixel progressive scan CMOS sensor
Lens
3.6 mm fixed lens
Angle of view:
H: 60.79 degrees
V: 36.52 degrees
D: 67.88 degrees
Min. Illumination
0.5 lux @ F1.8
Effective Pixels
1920 x 1080 pixels

Image

Video Encoder
H.264 / MPEG-4 / M-JPEG
High Resolution Mode
H.264@ 1080p
MPEG4@ 1080p
MJPEG@ D1
Frame Rate
Up to 30fps for all resolutions
Image Setting
Brightness, sharpness, contrast, saturation, mirror, AWB, WDR, BLC, text, time and image overlay
Streaming
Simultaneous multi-profile streaming
Streaming over UDP, TCP, HTTP, or HTTPS
M-JPEG streaming over HTTP
Controllable frame rate and bandwidth
Constant and variable bit rate (H.264)

Audio

Audio Streaming
Built-in microphone
Audio Compression
G.711
Audio Input
Adjustable audio input gain

Network and Configuration

Standard
IEEE 802.3 10BASE-T
IEEE 802.3u 100BASE-TX
IEEE 802.3af
Protocol
TCP/IP, IPv4, IPv6, UDP, ICMP, DHCP, NTP, DNS, PLANET DDNS/PLANET Easy DDNS, SMTP, FTP, HTTP, HTTPS, Samba, PPPoE, UPnP, Bonjour, RTP, RTSP, RTCP
Security
Password protection, IP address filtering, HTTPS,
QoS/DSCP
Users
5 clients on-line monitoring at the same time

System Integration

Application Programming Interface
Open API for software integration
ONVIF Compliant
Alarm Triggering
Intelligent video motion detection and external input
3-zone video motion detection
Alarm Events
File upload via SD card, FTP, email and SAMBA.
Video Buffering
Configurable Pre/Post alarm buffering

General

Power Requirements
IEEE 802.3af Class 3
Power Consumption
4W max.
Operating Temperature
-10 ~ 45 degrees C
Operating Humidity
20 ~ 80% (non-condensing)
Weight
180g
Dimensions (Φ x L)
95 x 50 mm
Emission
CE, FCC
Connectors
10/100 Mbps Ethernet, RJ45
Built-in microphone
Digital in
Micro SD/SDHC card slot (Max. 32GB, Class 10)
Factory default reset button
Ordering Information
ICA-4200
Ultra-mini Full HD Fixed Dome IP Camera