Cost-effective, High-performance PoE VoIP Phone
To build high-performance VoIP communications at a low cost, PLANET has launched the latest member of its IP Phone family, the VIP-256PT enterprise-class 2-line PoE IP phone. It complies with IEEE 802.3af PoE interface for flexible deployment. The VIP-256PT makes it simple for the enterprise featuring voice and data system or expanding voice system to new locations. It helps the company to save money on long distance calls; for example, the remote workers can dial in through a Unified VoIP Communication System just like an extension call but no long distance charge would occur. The VIP-256PT also allows call to be transferred to anyone at any location within the voice system, which enables the enterprise to communicate more effectively and is helpful to streamline business processes.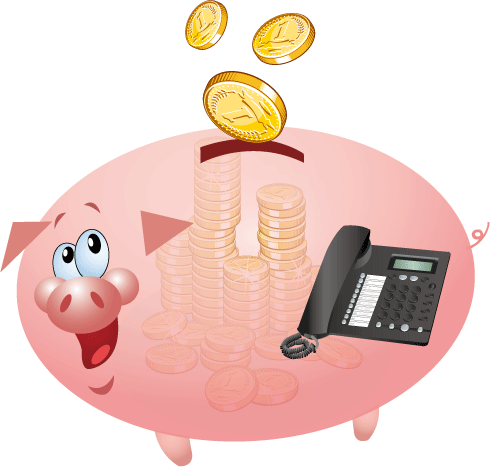 Standard Compliance
Compliant with the Session Initiation Protocol 2.0 (RFC 3261), the VIP-256PT is able to broadly interoperate with equipment provided by VoIP infrastructure providers, thus enabling them to provide their customers with better multi-media exchange services.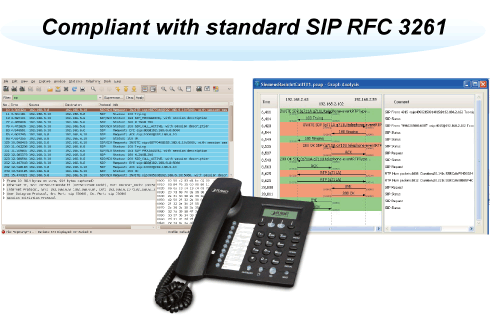 Enhanced, Full-Featured Business IP Phone
The VIP-256PT is a full-featured enhanced business IP phone that addresses the communication needs of the enterprises. It provides 2 voice lines and dual 10/100Mbps Ethernet. Furthermore, the VIP-256PT delivers user-friendly design containing a 128×32 Graphic LCD with white backlight, 2 line keys and 4 soft keys, and 10 multi-functional keys with dual-color LED. The VIP-256PT supports all kinds of SIP based phone features including Call Waiting, Auto Answer, Music on Hold, Caller ID and Call Waiting ID, 3-way Conferencing, Call Hold, Call Forwarding, Black List, Hotline, DTMF Relay, In-Band, Out-of-Band (RFC 2833) and SIP INFO, among others. Besides for office use, the VIP-256PT is also the ideal solution for VoIP service offered by Internet Telephony Service Provider (ITSP).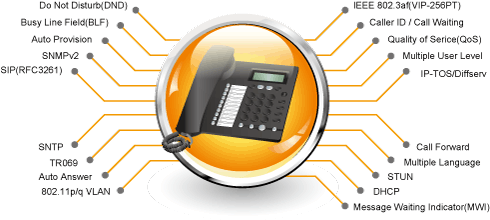 Secure, High-Quality VoIP Communication
The VIP-256PT supports SIP v2 for easy integration with general voice over IP system. It can also effortlessly deliver secured toll voice quality by utilizing cutting-edge 802.1p QoS (Quality of Service), 802.1Q VLAN tagging, and IP TOS technology.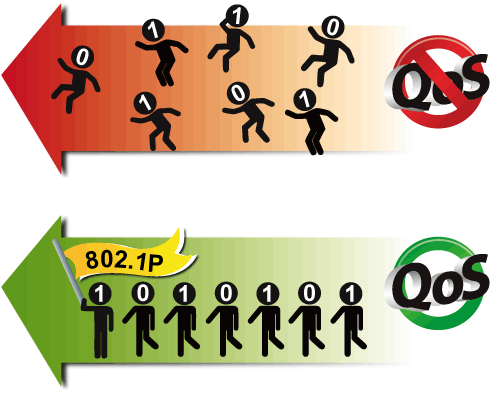 Professional Application
The VIP-256PT supports Busy Lamp Field (BLF) function that, via the lights on the phone, enables users to easily identify the status of other phones which connected to the same IP PBX, such as busy, idle, ringing, etc. The connected IP PBX must also support BLF feature. The BLF function is helpful for a receptionist on the front desk to route all incoming calls smoothly.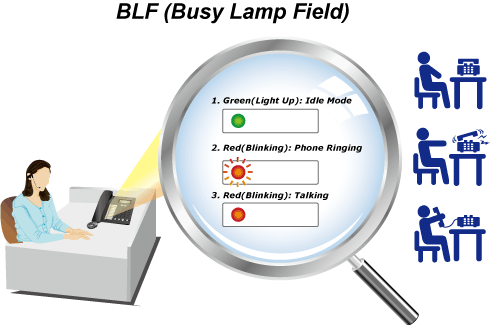 Highlights
2-line enterprise-class IP phone
IEEE 802.3af Power over Ethernet (PoE) compliant
Connects directly to an Internet telephone service provider or to an IP PBX
Dual switched Ethernet ports, speakerphone, caller ID, call hold, conferencing, and more
Easy installation and highly secure remote provisioning, as well as menu-based and web-based configuration
Telephony Features
Two Voice Lines
Pixel-based Display: 128 x 32 monochrome graphical liquid crystal display (LCD)
Caller ID and Call Waiting ID
3-way Conferencing
SMS Functions
Busy Lamp Field (BLF)
Do Not Disturb (DND)
Full-Duplex Speakerphone
Call Transfer: Blind Transfer and Attended Transfer
Call Mute, Redial, Speed Dial, Pick Up, Call Park, Dial Plan, Call Hold, Call Forwarding
Management
SIP V2 (RFC 3261,3262,3263,3264)
STUN (RFC 3489)
Automated provisioning and upgrade via HTTPS, HTTP, TFTP
Message Waiting Indicator (RFC 3842)
IEEE 802.1Q VLAN / 802.1p and IP ToS
TR069 / SNMP v2
Hardware

Lines (Direct Numbers)
2-Line enterprise-class IP phone
Display
128×32 Graphic LCD with white backlight
Feature Keys
2 line keys and 4 soft keys
12 dialing buttons (0~9, *, #)
9 fixed function buttons
10 multi-functional key with dual-color LED
Physical Interfaces
Two 10/100BASE-T RJ-45 Ethernet ports (IEEE 802.3 / 802.3af Power over Ethernet compliant)
Handset: RJ-9 connector
Built-in speakerphone and microphone

Protocols and Standard

Data Networking
MAC Address (IEEE 802.3)
IPv4 (RFC 791)
Address Resolution Protocol (ARP)
DNS: A record (RFC 1706), SRV record (RFC 2782)
Dynamic Host Configuration Protocol (DHCP) client (RFC 2131)
Internet Control Message Protocol (ICMP) (RFC 792)
TCP (RFC 793)
User Datagram Protocol UDP (RFC 768)
Real Time Protocol RTP (RFC 1889, 1890)
Real Time Control Protocol (RTCP) (RFC 1889)
Differentiated Services (DiffServ) (RFC 2475)
Type of service (ToS) (RFC 791, 1349)
VLAN tagging 802.1p / 802.1Q: Layer 2 quality of service (QoS)
Simple Network Time Protocol (SNTP) (RFC 2030)
Backward compatible with RFC 2543
Session Timer (RFC 4028)
SDP (RFC 2327)
NAPTR for SIP URI Lookup (RFC 2915)
Voice Gateway
SIP version 2 (RFC 3261, 3262, 3263, 3264)
SIP supported in NAT networks [including STUN (RFC 3489)]
Message Waiting Indicator (RFC 3842)
Voice algorithms:
– G.711 (A-law and μ-law)
– G.726 (16/24/32/40 kbps)
– G.722
– G.723
Dual-Tone Multi-Frequency (DTMF), In-Band and Out-of-Band (RFC 2833) (SIP INFO)
Voice Activity Detection (VAD) with Silence Suppression
Adaptive Jitter Buffer Management
Comfort Noise Generation
Echo Cancellation Message
Provisioning, Administration and Maintenance
Integrated web server provides web-based administration and configuration
Telephone keypad configuration via display menu/navigation
Automated provisioning and upgrade via HTTPS, HTTP, TFTP
User Authentication for configuration pages
Local and Remote Syslog (RFC 3164)
SNTP Time Synchronization
Multi User Level
SNMP v2
TR069

Features

Telephony Features
Two Voice Lines
Call Waiting
Auto Answer
Music on Hold
Caller ID and Call Waiting ID
3-Way Conferencing
Call Hold, Call Forwarding, Call Mute
Call Transfer: Blind Transfer and Attended Transfer
Call Log: Redial List, Answered Calls and Missed Calls
Volume Adjustment: Handset/Headset, Speaker and Ringer
Delayed Hotline
Redial, Speed Dial
Busy Lamp Field (BLF)
Pick Up, Call Park, Dial Plan
Black List
Message Waiting Indicator (MWI)
Do Not Disturb (DND)
Full-Duplex Speakerphone
Customized Ring Tone
SMS (100 records)
Call History (100 records )
– Most Recently Missed Calls
– Most Recently Received Calls
– Most Recently Dialed Numbers
Phone Book (100 records)
Speed Dial (10 records )

Environment

Power Requirements
5V DC, 1A
IEEE 802.3af
Operating Temperature
0 ~ 50 degrees C
Operating Humidity
10 ~ 90% (non-condensing)
Weight
720g
Dimensions (W x D x H)
191 x 205 x 75 mm
Emission
CE, FCC
Connectors
Two 10/100Mbps Ethernet, RJ-45
RJ-9 handset connector
DC power jack
DND Switch
Ordering Information
VIP-256PT
802.3af PoE SIP IP Phone (2-line)