High Power PoE for Security and Public Service Applications
To fulfill the demand of High Power PoE for network applications with Gigabit transmission, PLANET GSD-808HP.3at PoE Gigabit Ethernet Switch is an ideal solution. Each 10/100/1000Mbps port of the GSD-808HP features IEEE 802.3af and IEEE 802.3at Power over Ethernet (PoE) that combine up to 130-watt PoE budget on the whole system, It is designed specifically to satisfy the growing demand of higher power consuming network PD (powered devices) such as PTZ (Pan, Tilt & Zoom) / speed dome network cameras, multi-channel (802.11a/b/g/n) wireless LAN access points and other network devices by doubling PoE power, more than the current conventional 802.3af PoE.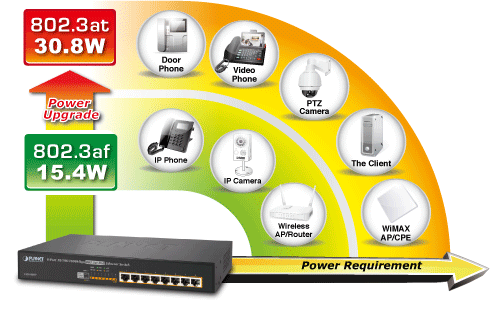 Automatic PoE Management
To facilitate power management, the GSD-808HP implements powerful PoE intelligent features:
 ■ PoE Power Usage Threshold Alarm
 ■ PoE Power Budget Control
The GSD-808HP is equipped with two orange LEDs located on the left side of the GSD-808HP front panel. These are PoE Power Usage indicators. 1-4 means that it is counting from port 1 to 4 of PoE output, while 5-8 means that it is counting from port 5 to 8 of PoE output. The LED will light up to show 80% when 1-4 or 5-8 PoE output is over 80%, and if 1-4 or 5-8 PoE output is over 95%, the LED will blink to warn customers. With these LED indications, you can monitor the current PoE power usage status of the GSD-808HP easily and efficiently.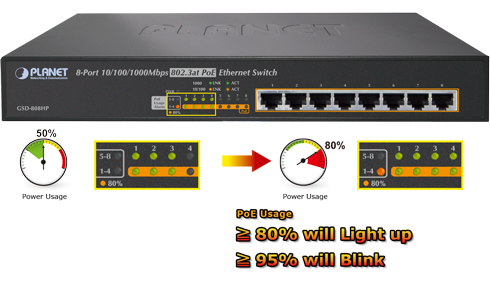 Energy-Saving
The GSD-808HP uses new engine that incorporates advanced Green Networking technologies:
 ■ Idle Mode Link Down power saving
 ■ Intelligent Scales Power based on cable length
The Idle Mode Link Down power saving of the GSD-808HP complies with IEEE 802.3az Energy Efficient Ethernet (EEE) standard to automatically lower power for a given port when it is not linked.

Easy Installation & Cable Connection
Providing data transfer and High Power PoE in one unit, the GSD-808HP is able to reduce the need of extension cables and dedicated electrical outlets on the wall, ceiling or any unreachable place. It helps to lower the installation costs and simplify the installation effort.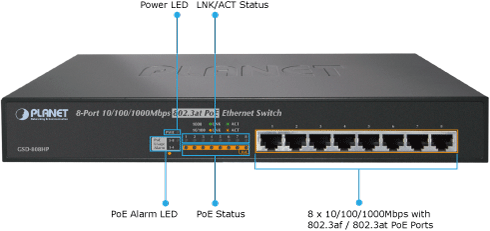 All RJ45 copper interfaces of the GSD-808HP support 10/100/1000Mbps auto-negotiation for optimal speed detection through RJ45 Category 6, 5 or 5e cables. It also supports standard auto-MDI/MDI-X that can detect the type of connection to any Ethernet device without requiring special straight or crossover cables.
High Power IP Surveillance and Wireless LAN Service in Public Transportation
Having the capability of IEEE 802.3at Power over Ethernet standard, the GSD-808HP can directly connect with any IEEE 802.3at end-nodes like PTZ (Pan, Tilt & Zoom) network cameras, PTZ Speed Dome cameras, color touch- screen Voice over IP (VoIP) telephones, and multi-channel wireless LAN access points. Besides the wired Internet network, the wireless LAN would be more efficient for the transportation station to provide high-speed and wide area Internet services for travelers. By adopting PoE Wireless LAN structure, the transportation authority gains benefits from less cost while providing better Internet services in wider areas for the travelers.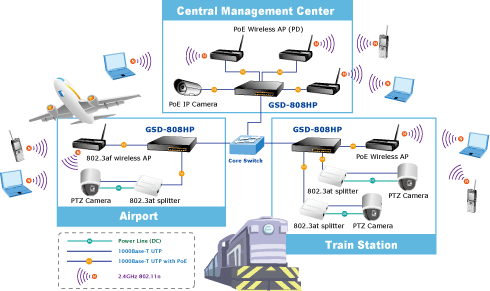 Flexible VoIP Deployment in IP Office
With the business office expansion, the additional telephones required can be installed at less cost via the implementation of PoE IP Telephony system than that of the traditional circuit wiring telephony system. PLANET GSD-808HP 802.3at Desktop PoE Switch helps enterprises to create an integrated data, voice, and powered network. PLANET 802.3af compliant IP Phones can be installed without additional power cable because the power can be provided via the standard Ethernet cable from the connected GSD-808HP. PoE IP Phones and Analog Telephony Adapter work perfectly with the GSD-808HP which injects power through the Ethernet cables.
With the GSD-808HP, IP Telephony deployment becomes more reliable and cost effective, which helps enterprises save tremendous cost when upgrading from the traditional telephony system to IP Telephony communications infrastructure.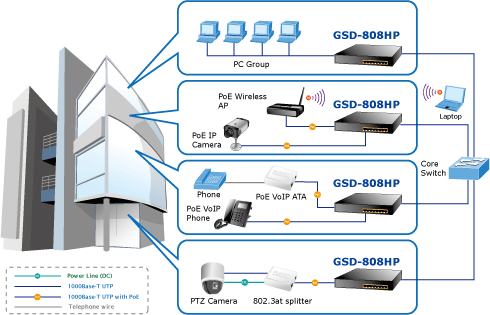 RJ45 Interface
8 10/100/1000Mbps Gigabit Ethernet ports
8-Port supports 52V DC power to PoE Powered Device
Power over Ethernet
Complies with IEEE 802.3af / IEEE 802.3at Power over Ethernet End-Span PSE
Up to 8 IEEE 802.3af / IEEE 802.3at devices powered
Supports PoE Power up to 30 watts for each PoE port
Auto detects powered device (PD)
Circuit protection prevents power interference between ports
PoE Usage Alarm LED
Remote power feeding up to 100m
Switching
Hardware based 10/100/1000Mbps auto-negotiation and auto MDI/MDI-X
Flow control for full duplex operation and back pressure for half duplex operation
Integrates address look-up engine, supporting 8K absolute MAC addresses
9K Jumbo Frame supports all speeds (10/100/1000Mbps)
Automatic address learning and address aging
Supports Energy-Efficient Ethernet (EEE) function (IEEE 802.3az)
Hardware
12-inch desktop size, 1U height
LED indicators for PoE ready, PoE activity and PoE Usage Alarm
Fanless design
Ethernet Link Energy-Saving technology

– Link down power saving

– Intelligent scales power based on cable length
Hardware Specification

Hardware Version
4
Network Connector
8-Port RJ45 for 10/100/1000Base-TX
PoE Inject Port
8-Port with 802.3af / 802.3at PoE injector function
LED Display
System: Power (Green)
PoE Usage Alarm:
 • 1-4 (Orange)
 • 5-8 (Orange)
Per port :
 • PoE in-use (Green)
 • LNK/ACT (Green)
Switch Architecture
Store and Forward switch architecture
MAC Address
8K MAC address table with auto learning function
Switch Fabric
16Gbps
Switch Throughput
11.9Mpps@64Bytes
Power Requirements
100~240V AC, 50/60Hz, 2A (max.)
Power Consumption
Max. 150 Watts / 511 BTU
Dimensions (W x D x H)
280 x 180 x 44mm
Weight
1.67kg

Power over Ethernet

PoE Standard
IEEE 802.3af Power over Ethernet / PSE
IEEE 802.3at Enhancement Power over Ethernet / PSE
PoE Power Output
Per Port 52V DC, 300mA. max. 15.4 watts (IEEE 802.3af)
Per Port 52V DC, 590mA. max. 30 watts (IEEE 802.3at)
PoE Power Supply Type
End-Span
Power Pin Assignment
1/2(+), 3/6(-)
PoE Power Budget
130 watts
Max. number of Class 2 PD
8
Max. number of Class 3 PD
8
Max. number of Class 4 PD
4

Environment

Operating environment
0 ~ 50 degrees C
Storage environment
-10 ~ 70 degrees C
Operating Humidity
5 ~ 95%, relative humidity, non-condensing
Storage Humidity
5 ~ 95%, relative humidity, non-condensing

Standard Conformance

Standard Compliance
IEEE 802.3: Ethernet
IEEE 802.3u: Fast Ethernet
IEEE 802.3ab: Gigabit Ethernet
IEEE 802.3x: Flow Control
IEEE 802.3af: Power over Ethernet
IEEE 802.3at: Enhancement Power over Ethernet
IEEE 802.3az: Energy-Efficient Ethernet
EMI Safety
FCC Class A, CE
Ordering Information
GSD-808HP
8-Port 10/100/1000Mbps 802.3at PoE Desktop Switch